Will Fordham has taken out the Frankston Best and Fairest!
After a stellar campaign through the midfield which saw him take his game to new heights, the 23 year-old took out the award at the end of year function.
One of Frankston's most elegant players, averaging 24 disposals and almost six tackles per game, Fordham finished with 43 votes, three clear of captain Josh Newman in a tight count at SkyBus Stadium.
The pair were standout contributors for Frankston through the midfield, with coach Danny Ryan lauding their flexibility and improvement.
'Will's become a genuine VFL midfielder. He came to us from North Melbourne having played three years on the wing at their VFL side Werribee and changed his game last year to be an inside mid. This year he's taken that to another level where he's become one of the best inside mids in the VFL competition.'
'He's taken his game to a whole new level. His ability to stand up in tackles and operate in heavy traffic and still drive his legs [has been] excellent and he's improved the side of his games where he finds really good targets with the ball.'
Will's the mirror of our leadership group… I think he's become calmer in his leadership. Last year he had an intensity about him but Josh has been a calming influence on him so he's let his footy do the talking.'
'As for Josh, he's become a midfielder this year so he had enough on his plate football wise; I think it's an absolute credit to him with what he's been able to do.'
'I think he's really grown into the leadership and it's helped round him out as a person in a lot of ways which can only be a positive for the club going forward.'
Athletic tall Goy Lok, small forward Corey Rich and run-with mid Gus Styles rounded out the top five.
Lok was consistent throughout his first full season of VFL senior football, playing every game. He became more damaging as the season wore on, with Ryan foreseeing great future potential for the Sudanese Dolphin.
'Goy's been fantastic clearly as well. With Goy, it was more about the opportunity to come and play at VFL level and he's been able to do that.
'If he didn't have the injured finger which he had, you would have seen an even better version of Goy so that's something to really look forward to.'
'He'll be able to kick the ball as well he can and have even more of an impact.'
'His challenge is now to grow and be able to take his game to another level next year.'
Rich, 22, continued his excellent form from last year, going goal-less just thrice as he grew into the vice-captaincy role while Styles' damage and decision making earned praise from the coach.
'When coaches talk about high trust, Corey Rich is the exemplary professional. He plays his role whatever it is, there's no fuss about it, he goes about his business and he's bloody good at it.'
He's extremely coachable, knows the game plan inside out, as a teammate he's really important and vice-captain of the club. A strong leader to support Josh.'
'Gus is really compliant and plays a great role for us. The recognition for him is his consistency because he's played every game bar one and even though he's pretty slight, he's been durable, he's contributed and been an important member.
He gets 15-20 pretty important touches because we have high trust in him. The midfield coaches in that they know whatever role they send him to he's going to get done.'
Full top 10 results:
43- Will Fordham – B & F.
40 – Josh Newman – Runner up
28 – Goy Lok – Third
26 – Corey Rich – Fourth
24 – Gus Styles – Fifth
23 – Aloysio Ferreira-Neto – Sixth (equal)
23 – Dylan Gordon – Sixth (equal)
22 – Alfie Jarnestrom – Eighth (equal)
22 – Jimmy Miller – Eighth (equal)
20 – Blake Mullane – Tenth
The Best and Fairest night officially brought Frankston's 2019 campaign to a close. The Dolphins recorded one win, against North Melbourne, but grew markedly as the season wore on, with four losses by under seven points illustrating their improvement, as they lay foundation for the young team to rise up in the ladder in the coming years.
Stay tuned to the Frankston Football club this week for the full season review and throughout the off season to hear of any new signings.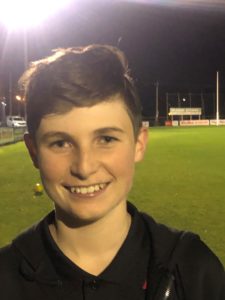 Article by Jonty Ralphsmith / Photo's by Diggle Photography
Dolphins Digital Media Team