The Frankston Dolphins 2019 campaign, which saw them record one win as they laid solid foundations under coach Danny Ryan, will officially come to a close on Saturday 31st August when the Best and Fairest will be held at SkyBus Stadium. Below is our ultimate preview to Frankston's night of nights.
How it is adjudged:
The Frankston Best & Fairest sees each player ranked by the coaching panel on a 0-5 scale for each game they play throughout the season. Given each game is ranked, it makes consistency in performance and durability ultra-important.
2018 winner: Lewis Pierce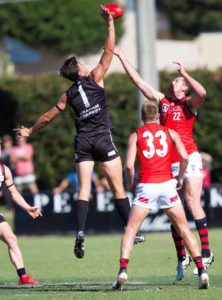 After the St Kilda listed ruckman was granted special permission to play for Frankston last season instead of Saints' affiliated Sandringham, Pierce had an enormous impact. His ruck work was in the top echelon of the competition which allowed the midfielders first use at the footy. He was also a vital marking target down the line, playing a role which has been succeeded this season by Mitch McCarthy.
He broke through for three senior AFL appearances last season but still took out the coveted award. Was with St Kilda again this season but his campaign was largely marred by repeated concussion symptoms and couldn't break through after a round one appearance.
The 202cm giant was unfortunately delisted earlier in the week as St Kilda look ahead to next season, with five AFL games on his resume.
2019 Contenders
Mitch McCarthy
2019 was a career best campaign for Mitch McCarthy, with his work in the ruck and around the ground reaching new heights. Maybe the only obstacle between he, and Frankston's Best and Fairest this season being the fact that he missed six games through injury.
Had a quiet first month of the season, before being sidelined until round ten where he backed up his ruck work with an aerial presence in marking contests finding plenty of his own footy.
The former rookie listed Pie averaged 23 hitouts and fourteen disposals throughout the season, with his best outing coming against his former side where he was dominant in the ruck and around the ground, collecting 41 hitouts and eighteen possessions.
Expect the 2nd year Dolphin to finish fast but has probably left himself too much ground to make up late.
Josh Newman
Perhaps the biggest challenger to favourite Will Fordham, Newman started the season as a rock in defence and finished it a star of the midfield.
As captain, the efficient ball-user set the standard high for his team-mates, averaging 26 possessions and collecting 28 or more on seven occasions.
Having played every game, the 24 year-old will likely lead after the first half of the season and may well find himself there at the end of the night too.
Will Fordham
It's hard to see the former North Melbourne rookie not winning.
After a second place finish last season, Fordham has risen to new heights this season as an ominous, exciting player on the run and ball magnet around stoppages.
Averaging 24 possessions and almost six tackles a game, Fordham got better and more influential as the year progressed.
Hit a significant purple patch in rounds 10-15 capped off by a 30 possession, 3 goal, 10 tackle effort in the wet against Box Hill.
Nathan Freeman:
Of the ten full games Freeman played, he collected over 30 possessions in seven of them. That sums up Freeman's season.
Influential as anyone when he was on the park using his game sense and AFL experience to get himself in good positions through the midfield but spent two sustained periods on the sidelines. Will that cost him a podium finish?
Other well performed individuals
Aloysio Ferreira-Neto:
The livewire Brazillian was consistent through the midfield, averaging 18 possessions and missing just two late season matches. Expect him to be in the top handful of vote getters season-long and could finish top five.
Blake Mullane:
Narrowed his focus with Josh Newman succeeding his captaincy, Mullane was an important player who gave his all every week. Was ultra-consistent in defence and used occasionally in a higher role. Should finish top-five.
Corey Rich:
The small forward was opportune around goal, to lead Frankston's goal kicking with 24 goals from 18 games. The 21 year old went goalless just thrice and used it well going inside attacking fifty. Likely won't rack up the votes like he did last year (finishing third), but was important nonetheless.
Dylan Gordon:
The stoic defender was given the tough assignment of playing on the opposition's best forward every week but equalled most contests at least with his booming left foot also handy. Top five smokey.
Liam Hiscock:
Another tireless defender who mightn't have always racked up the numbers but a name the coach could put on the whiteboard and know he could be trusted. Played 16 games.
Gus Styles:
Played a sometimes unrecognised, selfless, run-with role for much of the season after a year with the Swans. Missed just one game.
Goy Lok:
The athletic tall on baller played every match and brought grunt to the side. A great offensive runner, he averaged sixteen disposals with a 25 possession, 1 goal match against Collingwood his best.
Lachie Williams:
Played 13 matches and was reliable in defence, particularly in the first half of the season, with a couple of injuries late minimising his output. His courage was typified in that last game against Werribee when he copped a bone-bruising, match ending hit to set up a Dolphins goal.
Alfie Jarnestrom
A slow start to the season, saw him dropped after six games and responded emphatically thereafter. The coach lauded his second half to the campaign where his pressure improved and found more of the footy. Will poll strongly in the last month especially and, like many of his team-mates, has laid solid foundations heading into next season.
Predicted finish:
1: Will Fordham
2: Josh Newman
3: Nathan Freeman
4: Mitch McCarthy
5: Blake Mullane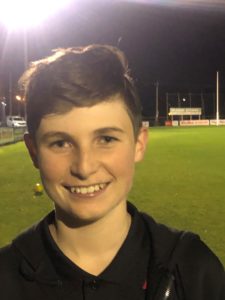 Article by Jonty Ralphsmith / Photo's by Diggle Photography
Dolphins Digital Media