On behalf of Frankston Football Club I am delighted to confirm the appointment of Adrian Lloyd as the club's new Chief Executive Officer. This represents a full circle for Adrian who played for Frankston throughout the seventies, was Club secretary in our 1978 premiership year and served as full time manager for over a decade from early 1980's to 1994. Adrian then went on a lengthy commercial career firstly at the Carlton Football Club, Melbourne Victory and Melbourne Rebels and finally back at Carlton FC. He brings a depth of experience and commercial acumen that will support us well as we continue our club building phase.
Club members will be aware that Adrian had committed to support the Commercial side of our club in 2020 and the expansion of his role to include all aspects of the club is something that provides even more opportunity to secure our future as an emerging VFL force.
Over the coming weeks Adrian will be spending considerable time with outgoing CEO Mick O'Neil and all our staff members to ensure a smooth transition of the clubs operations and activities.
Please join me in welcoming Adrian back to a full time role at our great club.
Kind regards to all sponsors, members and supporters
Look forward to seeing you all again in 2020 and feel free to give Adrian a call on 0412 352 241 or at the club to congratulate him.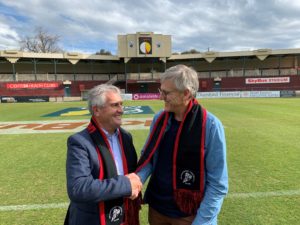 Peter Geddes
President