Part 1: Improvement, attacking group
2019 was a step down in wins for Frankston, but a significant step towards laying a solid foundation for future success of the club.
Their one win against North Melbourne was special but highlights didn't always come in the form of wins; falling short by a kick or less on four occasions showing the glimmering potential for the young Dolphins.
In his first season at the helm, senior coach Danny Ryan can see the improvement from last season, consistently challenging sides.
'Frankston's on a journey and the first part is to become relevant to the competition and last year at the end of the year, even though we had the two wins, we were actually irrelevant,' Ryan quipped.
'This season, we have become relevant to the competition in that facet. But as a stand alone and non-aligned team, we actually want to be more than competitive and be a winning team and that's a shift to have hunger for the chase.'
'We have become a braver football team with the ball.'
'There's been a massive growth. It's a different list. We're hoping a lot of our list stays, we don't want to turn players over.'
'Ideally we need 4-5 'A' graders to compliment this group and I think we can jump really quickly.'
Their array of small forwards looks well stocked for the future. Aptly led by 21 year old Corey Rich whose unrushed set shot technique and goal nous saw him kick 24 goals, along with the constant presence of Jimmy Miller was as pleasing as the emergence of less experienced players.
Young talls Isaac Muller and Bailey Schmidt showed glimpses in their debut campaign, whilst more exposure for Beau Bailey, Alex Harnett and Robbie Turnbull will hold them in good stead.
The forwards' all round ability was best showcased in the 50 point win over North Melbourne in round 11, Danny Ryan's first as head coach and undoubtedly the most joyous time of the year.
Nathan Freeman and Will Fordham were damaging in the middle with small forwards Yilber Zijai and Rich kicking three each up forward in a complete four quarter performance, which gave the players cause for optimism, belief and celebration.
"There has been a lot of that capability that you would've seen today. We played well for 100/120 minutes and previously we have delivered that that style in 5-10 minute bursts," Ryan stated after the game.
"We were able to do it for longer today, which was really pleasing."
The improvement from the 120 point round 1 drubbing against Essendon, where 14 players pulled the Frankston jersey on for the first time, to that win was enormous, even to the most distant football fan.
Positively, that dismal display would be their only loss by over 90 points for the season after six such losses last season.
'We're still losing games, we've won one game for the year but we haven't been blown away as often so that's gratifying in that respect but I'm still not happy being bottom of the ladder.'
Part 2: 'Outstanding leader,' stoic defence
An indifferent month followed round 1, with three blowouts punctuated by a two point defeat against Sandringham where Frankston were gritty in a strong team performance.
Skipper Josh Newman was best on ground that day and set the bar high for the first month, barely dropping it season-long as he averaged over 26 possessions, putting his body on the line week-in week out in his first year as captain of the club.
'I think he's been outstanding, it's been brilliant having Josh back in the team, his leadership of the leadership group has been excellent… we've seen him and the whole leadership team really grow throughout the year,' Ryan said.
'Josh is 24 so I'd love to see him get a chance at AFL football but if he's here, he's got another 6-8 years of being captain of this club and he's an outstanding leader, he's an outstanding man and he can play.'
Two scoreless quarters kicking against the breeze in the Dolphins first meeting with Werribee was disappointing with a 15 minute lapse early in the second quarter that they could never peg back cost them the second time around.
Frankston also met Port Melbourne twice, with Ryan taking solace from the improvement shown in the round 19, 15 point defeat, compared to the 73 point loss earlier in the season.
The Frankston defence held up well in that round 19 loss, restricting the well-regarded Borough attack to just ten goals.
The defence was hardest hit by injuries, throughout the season, but was afforded continuity by former captain Blake Mullane, Liam Hiscock and tireless key back Dylan Gordon.
That trio missed just three games between them, while Connor Larkin, Chris Diggle, Jack Woodman and Lachie Williams each missed sustained periods of football.
Part 3: The end of the season, midfield and looking ahead
July showcased the progress Frankston had made throughout the season to push three teams to the final siren, with the young side learning valuable lessons about closing out games and being punished for not converting periods of dominance into goals.
'We've got to get better at stoppage, controlling it and capitalising on our inside 50s,' Ryan said.
'That (inability to win close contests) is both frustrating and inspiring at the same time as we look ahead.'
Against Coburg, Frankston kicked six behinds in stoppage time after Coburg kicked three straight goals at the end of the third term to halt the Dolphins uncapitalised momentum.
On a windy day against Box Hill, Frankston raced out to a 41 point lead at quarter time, but Box Hill were able to eat away at the margin. When Frankston- with multiple wounded men ruled out for the match- didn't kick a significant score with the breeze in the third stanza, it was Box Hill's to lose, as they ran away 18-point victors.
Against Collingwood in round sixteen, they went down by three points, unable to ever break away with enormous scope for improvement.
Their difficulty hitting the scoreboard was highlighted by the fact that they only exceeded 12 goals thrice throughout the season. It saw them lose winnable games while also misrepresenting their efforts against some sides.
Their contests against Williamstown reflected this, as they lost the games by 72 and 62 points respectively, though were in the game for much of the day.
The last game of the season was a hard, contested slog against Casey, with Frankston going down by six points but amazingly laid 123 tackles.
While it may not have been the prettiest of contests, ruckman Mitch McCarthy's absence was sorely felt, showing the contribution he had throughout the year in a career best season. The former Pie gave silver service to a midfield stacked with talent.
'Will Fordham has taken his game to another level, he's so important to us… I think Will has actually grown by Josh Newman being at this club,' Ryan quipped of the former AFL listed North Melbourne rookie who has averaged 24 disposals and six tackles this season, having played every game.
'Alfie Jarnestrom has stood up late in the second half of the year after a slow start. His last month has been really solid.'
Other well-performing midfielders were ball magnet Nathan Freeman, run with former Swans rookie Gus Styles, tenacious former Casey Demons Aloysio Ferreira-Neto and Goy Lok.
'Our ability to shift the ball off the line and move the ball through the midfield has been a massive improvement,' Ryan commented.
'Last year we were a very defensive based team and this year we still value defence but we've moved a little bit more towards using the ball well as a first point of defence.'
'We need to be relentless for longer. It's not really done yet because we've had fades in red time, we've had fades in quarters, periods of matches have cost us.'
'Organisation will be a big focus for preseason in terms of our ability to defend from stop plays and set plays being structured.'
'We need to come back and chase after that even more relentlessly next year in terms of our pre-season, our training, our recruiting. Everything needs to become still progressive in that space so we can become more of a challenge than just a hard fought losing side.'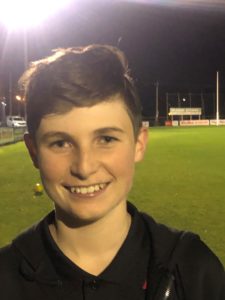 Article by Jonty Ralphsmith / Photo's by Diggle Photography
Dolphins Digital Media Team