Jack Berry commits to Dolphins
Frankston have gained the services of former Geelong and Werribee player Jack Berry for 2020.
Berry is a valuable acquisition who brings 31 games of VFL experience to Frankston, shoring up the key position and ruck stocks.
At 198 centimetres, ruck craft is especially important for the 24-year-old, who is considered an undersized ruckman.
Thus, spending time at Geelong, who had five AFL listed ruckmen during his tenure, and Werribee who have the services of ex Demon and Hawk Jack Fitzpatrick was particularly imperative, but Berry enjoys the challenge of bigger bodies.
I've got to be a bit smarter especially going up against the taller ruckmen I have to be able to use my athletic attributes and body in different ways because I don't have the height they naturally have,' Berry said.
'I have to work a little bit harder but I like going up against those boys and really bringing it up to them so I'm excited for that.'
'I feel like I have to draw on a little bit more knowledge to be able to compete with the bigger boys but I've trained with it so I'm pretty confident.'
The 24-year-old has spent spring ticking off a bucket list item, plane hopping twice weekly to play footy in the Northern Territory Football League for the Palmerston Magpies with Dylan Gordon (who played a major part coercing him down to Frankston).
'Palmerston got in contact with me up there saying they needed a ruckman so I jumped at the opportunity and I'm really enjoying it so glad that I did.'
'I fly out on Friday or Saturday and then I come back on the same weekend.'
'It's a completely different type of football up there. It's not as contested so more of a fast paced game.
'The way they change lanes and move the ball fast is the same as Frankston do so it's been good in that way.'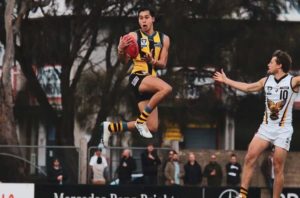 Ex Sandringham Zebra Kai Owens also committed to Frankston, and is looking forward to playing under the tutelage of Danny Ryan.
The former junior representative basketballer credits Ryan, for making the permanent switch to footy.
'I'm really happy to sign here,' Owens quipped.
'I've known Danny for a long time so he got me across and I know a lot of people at the club so I'm excited to play with them and play under Danny.'
'Danny's the reason I play footy. I used to play basketball but Danny was my school footy coach and got me on a footy oval enjoying the game and playing well.
'Then he invited me down to Sandringham Dragons so he's a real big factor as to why I play footy.'
'Even when he wasn't my coach we kept in touch and he gave me some advice so he was still good in that way.'
Owens played in a variety of positions at the Zebras, including as an undersized ruckman but hopes to settle as a key forward in 2020.
'I want to be seen as a hard-working guy who provides a contest and runs and jumps.'
'I'll try to be as exciting as possible and be the real energy of the team.'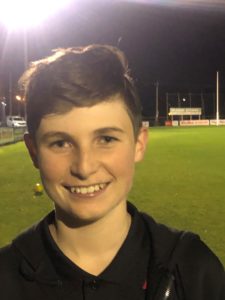 Article by Jonty Ralphsmith
Dolphins Digital Media Team