Frankston's list is continuing to take shape with Jack Mentha, and Billy McKay each committing to the club.
Mentha will bring defensive pressure and zip to Frankston's attack, coming back to his home state after spending a year at Southport in the NEAFL.
'I hope to bring a bit of knowledge from a different state league and a different state league club might come in handy,' Mentha exclaimed.
'It's a more wide-open game, and there's a lot more run and carry.'
'Although I see myself as a defensive small forward, I hope my awareness around the goals can hurt some opposition sides on the scoreboard as well.'
An ankle injury suffered in the last match of the season has seen Mentha spend much of the off-season in a moonboot, but he is confident in his preparations for 2020.
'I was in a moon boot for 8-9 weeks. It hampered my game sense training a little bit but pretty good other than that.'
'I'm starting to join in a fair bit now and am at about 90%.'
The pressure forward moved back to his home state after a year in the NEAFL, but didn't know anyone at Frankston before moving, attracted by the youth at the club.
'The boys have made the transition easy with there being a good group of blokes, so I've become close with a few people.
'Being the new face of the club you want to put your best foot forward to prove to the boys what you can do for them in all the right ways of course.'
Meanwhile, Billy McKay, a mature bodied 18-year-old comes across from Sandringham Dragons in the NAB League where he played consistent footy.
'I played in the juniors as an inside midfielder, but I think going in to 2020 as a younger player for Frankston I'd be best suited as a small back,' McKay said
'My best work's done as a contested player so I [hope] I can do a lock-down role.'
After considering joining various clubs, McKay settled on the Dolphins, and knew within the first week he had made the right decision.
'Frankston actually have that club feel. It only took me a week of training with Frankston to realise that there is a club environment here and I really like the chip on the shoulder atmosphere.'
'The senior boys have been incredibly welcoming and I pretty much know them all by first name.'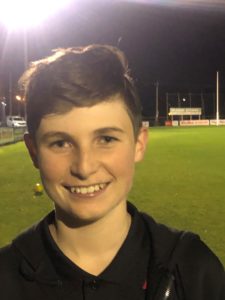 Article by Jonty Ralphsmith
Dolphins Digital Media Team