Frankston is thrilled to announce young forward Nathan Scagliarini has signed on for Season 2020.
'I'm absolutely stoked to re-sign. It's an exciting time ahead for the footy club with lots of fresh faces down (stay tuned to hear more on those!) and great people around the club,' Scagliarini told Frankston Dolphins Media after putting pen to paper.
'There's a good buzz around the club with relationships building between coaches and players.
'Pre season can be fun so we'll crack in and do as much as we possibly can to have more success next season.'
Recruited from Sandringham where he was used sparingly in 2017, Scagliarini made an immediate impact at Frankston, playing every game as a creative forward last year.
Heading into 2019, Scagliarini was one of the club's most exciting prospects, but the popular clubman's season would be extinguished due to a shoulder injury in round 1 which required a full reconstruction.
With 2020 pre-season now underway, the 21 year-old integration aide feels rejuvenated and is eager for a big 2020.
'The mind is really fresh and I'm as determined as ever to play footy and enjoy it after a long year watching on the sidelines when I wish I could've been out there.
'The shoulder's feeling really good, I've started contact work after a good rest so it's time to get stuck in and start building muscle so I have a fitness base again. I'm super pumped.'
'I really hope I can assert myself as a midfielder next season- hopefully an inside mid if I can put muscle on my body- and spend a bit of time up forward.'
Stay tuned to our website and socials to hear about our recruits and resigned players in the coming days.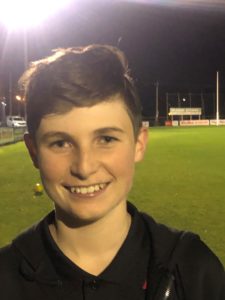 Article by Jonty Ralphsmith / Photo's by Diggle Photography
Dolphins Digital Media Team