The Frankston Dolphins are ecstatic to announce the signing of 20 year old Bailey Lambert from Richmond. Jonty Ralphsmith from Dolphins Media caught up with him to learn about his journey…
Only once has Frankston Dolphins recruit Bailey Lambert been star struck.
The 20-year-old has lived with Jack Redden, received advice from Jonathon Brown, and eaten many dinners with Tom Rockliff. But not until the former VFL listed Tiger was training at Punt Road did he feel overawed.
'In my first month at Richmond I met Dustin Martin which was big given he's a Brownlow Medallist and dual Norm Smith Medallist,' Lambert quipped.
'Dusty's the nicest person though- he just came up to me in a gym session and said 'nice to meet you, I'm Dustin.' Obviously you know who he is but him coming out of his way to say hi shows how down to earth he is.'
Lambert's father, Craig, has played in excess of 200 AFL games and has over 20 years of experience as Welfare Manager for the Brisbane Lions and GWS Giants, which has put Bailey in elite AFL company since birth.
'When I was younger, my parents being welfare managers had 20-30 AFL players over to our house on Wednesday nights for dinners. It was the likes of Pierce Hanley, Jack Redden and Tom Rockliff- they're your three main culprits and Luke Power is my brother's godfather.'
'Jack Redden lived at our house for a bit over a year and I didn't think of him as a different person. I just thought of him as Jack compared to lots of people thinking of him as a premiership player.
'I've been able to learn a lot of things at a really young age about professionalism which is really good.
'Dad's been a really big impact because I've learnt lessons you don't get from other people with AFL players giving you tips when you're young.
'I remember Jonathon Brown always telling me to take a mark out in front of myself when I was 8 years old which has stuck with me for the rest of my life.'
A consequence of his parents' careers has been living across three states, which has given Lambert contacts all the way up the east coast.
'It's good being on the move because my family is revolving around sports so it's great to have that support base where I have a lot of close friends who are AFL players.'
'I played all my AusKick until under 12's in Queensland, playing for Morningside and then I moved to Sydney because my parents moved to the Giants so I was at Drummoyne Power from when I was 12-17.
'During that process I started doing the Giants academy for 5 years then I moved back to Brisbane, joined the Lions academy and Morningside/ Redlands who was the senior club I played for in the NEAFL so I did that until I was 18 and then moved down to Richmond,' Lambert recalled.
The inside midfielder-cum-small forward was ecstatic after following in his father's footsteps in joining a successful Richmond VFL outfit ahead of the 2018 season, debuting late in the year against Frankston.
He ran rampant at SkyBus Stadium, collecting 30 disposals in a dominant performance, showing the Dolphins faithful what he was capable of.
But starved of VFL football and being alongside Dolphins listed Noble Park team-mates each week, Lambert sensed a chance at Kars St, so was keen put pen to paper.
'I wanted to have the opportunity to play at the highest level and be able to practice what you preach.'
'Watching them play last year they lost a couple of really close games but I liked their game plan around how they move the footy and the way they get through in defence.'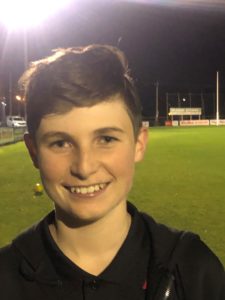 Article by Jonty Ralphsmith
Dolphins Digital Media Team