Essendon got over the top of Frankston in a tight tussle at an overcast Windy Hill on Sunday afternoon.
The Dolphins led for the majority of the first half, and an impressive Brodie McLaughlin goal gave them the lead to start the final quarter.
But Essendon kicked five goals to Frankston's two after that, looking cleaner and owning territory, aided by two 50-metre penalties, winning 12.11 83 to 10.8 68.
Will Fordham opened Frankston's scoring with a goal on the run, his burst from stoppages influential, impressing coach Danny Ryan by stepping up in the absence of Josh Newman.
"Will looked like [how he did] in 2019. He was great, playing like a bona fide big-bodied mid, breaking lines," Ryan said.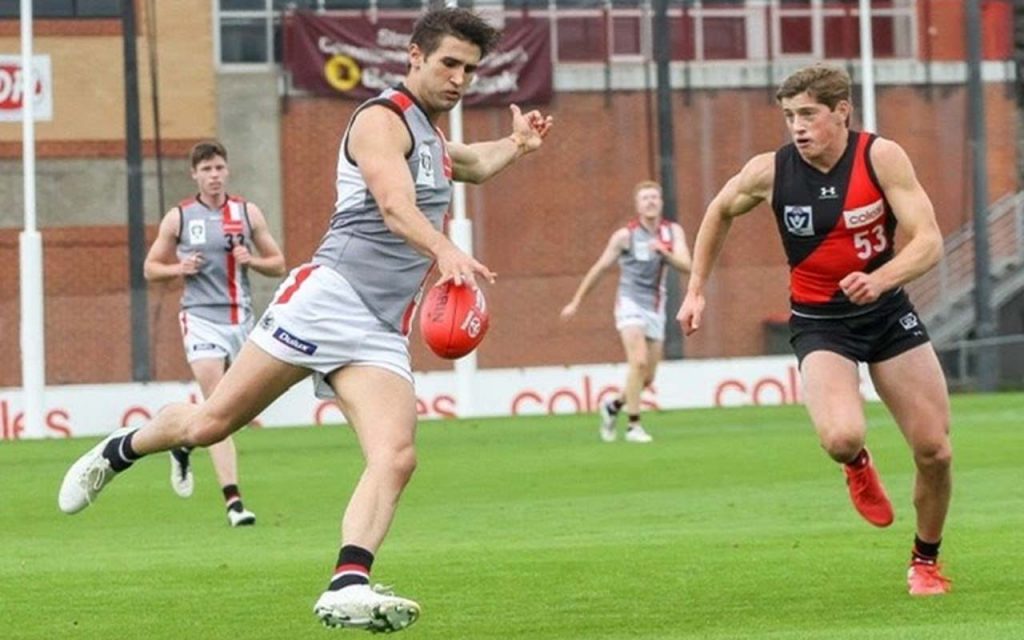 Kicking against the wind, the Dolphins went into quarter time four points up.
Playing forward, James Rendell kicked Frankston's first of the second quarter, his aerial presence important all day inside 50.
For Essendon, Ned Cahill was creative in attack, but his side wasn't able to capitalise on opportunities in the second quarter, Frankston holding onto an eight-point lead at halftime.
A monstrous Josh Begley goal from outside 50, set up by a quick defensive transition was the highlight of the third quarter for Frankston.
Connor Riley and Mitch Cox were lively, offering run and effort and there was cause for optimism as the Dolphins were just two points behind at three-quarter time and would have the assistance of the wind in the last quarter.
But Essendon's star power stood up, Alec Waterman damaging in the middle and Patrick Ambrose kicking two of his six goals in a tense final term. 
Ryan was disappointed post-game in the Dolphins' inability to get the desired outcome.
"The game was there in the last quarter for us to take and we weren't able to take it so we've got some work to do," he said. "They were better when they needed to be, they hit their targets, we missed our targets. Throughout the game, there were skill errors – some of that is [due to] pressure from them… we were certainly in the game and we got a sniff but weren't able to sink the sword in. "We need to keep growing so we can take the step where we do win these games."
Frankston has a five-day break before a Friday night clash with the undefeated Footscray in what will be the club's 1000th match in the VFA/VFL.
Best: Fordham, Rendell, Riley, Arthurson, Cox, Goddard
Goals: Rendell 2, McLaughlin 2, Begley, Fordham, Goddard, Krakauer, Mentha, O'Leary
– By Jonty Ralphsmith