The Frankston Dolphins have recruited 2021 Dandenong Stingrays captain Abbey Jordan for the season.
The 19-year-old led the Stingrays to an elimination final as a clean user through the midfield and off halfback and is now supplementarily listed at VFLW side Southern Saints. When not selected there, she will play for the Dolphins.
A Rye junior, coach Greg Hilton said she had been a nightmare to coach against, so was rapt to get her on board.
"She's a bit of a ball-magnet!" Hilton said.
"We've always been conscious of getting a good player like Abbey.
"I can see her running off the halfback line and bringing our other players into play, especially with her running."
From Jordan's perspective, Hilton has always been a source of support.
"He's always been cheering me on," she said.
"I like his coaching style, he's old-school and focuses on getting the basics right before we implement game plans and everything else."
Alongside her commitment to the Stingrays where she played eight games, she has been training with the Saints, her strength taking her by surprise in a recent training session.
"I think a lot of the girls were pretty surprised by my strength."
"There's a big girl on the team, Frankie (Francesca Hocking), and we were doing a drill.
"I held her in a tackle, and I was like 'jeez, I'm stronger than what I thought!'"
Having been approached by several different local clubs, Jordan watched round one and was enthused by the level of footy the Dolphins played.
She has since followed the club's social media pages closely and been attracted by the equality between the men's VFL program and women's SEWFL program.
When Hilton introduced Jordan to the squad prior to training on Tuesday night, there were two words on the wall behind his right shoulder: "competitive" and "united".
"The leadership group took it upon themselves to get all the players together and create a simple message," Hilton said.
"They're two words that mean something to us and that we could follow, and they certainly stuck to it on Saturday."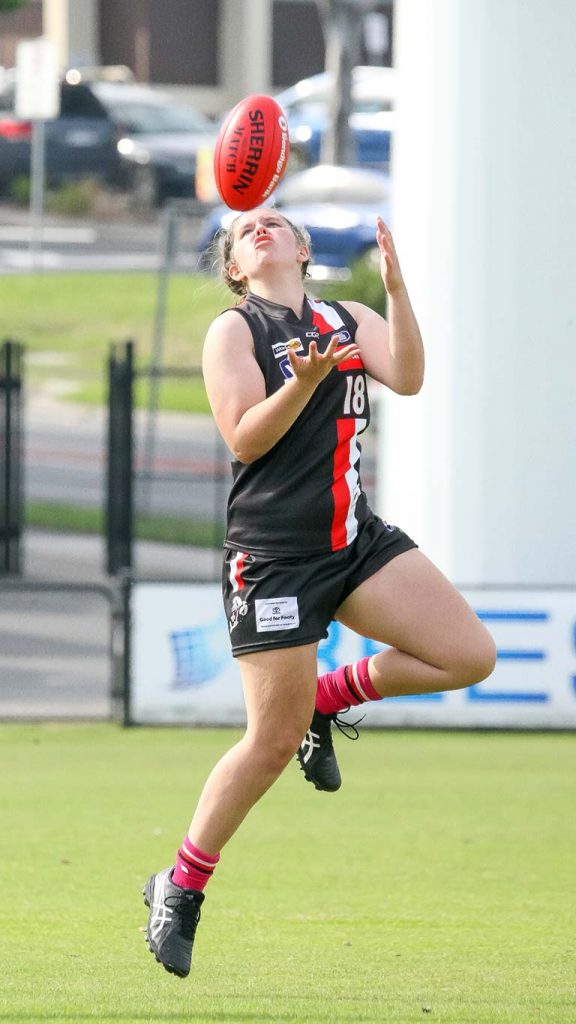 After initiating the mantra last week, the difference in competitiveness of the second half against Coburg in round two and Eastern in round three was stark.
Despite a 44-point loss to the strong Devils on Saturday, the coach was impressed with their ability to stick to their values to keep the visitors scoreless in the first quarter and remain more competitive throughout the match – even if not reflected on the scoreboard.
The Dolphins take on Seaford at SkyBus Stadium on Saturday from 11am.
Get down and show your support!
By Jonty Ralphsmith