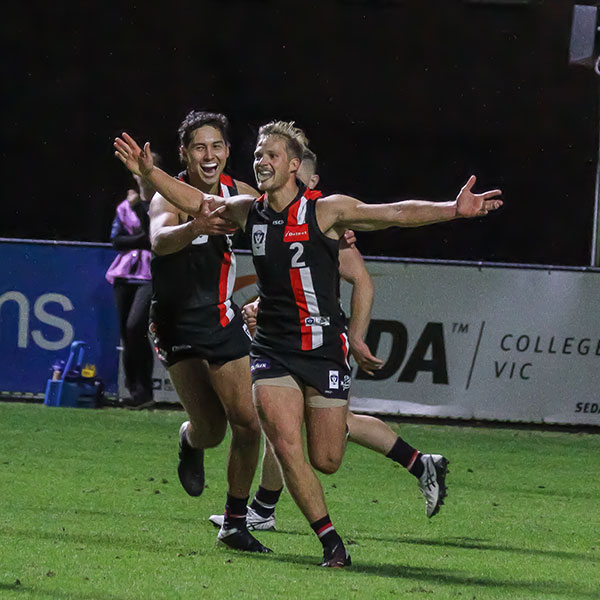 By former CEO Michael O'Neil, with Jonty Ralphsmith
Frankston captain Josh Newman will play his 100th VFL game this Sunday against Richmond at SkyBus Stadium, giving him cause to reflect on his journey from a talented youngster, to a universally respected leader within the VFL.
His career began at Frankston in 2014, where he spent three seasons, before spending the 2017 season with Williamstown. In 2018, he fulfilled a once-in-a-lifetime opportunity traveling through the Americas surfing with his best mates.
As a former CEO and board member of the football club, I have had the privilege to observe Newman up close in the past three years.
Soon after being declared captain in his Frankston return in late 2018, Josh requested a time for us to meet and discuss some ideas he had to improve the football club.
Held in the opposition coaches' box, Josh bounced into that meeting with a smile on his face, something that became a regular occurrence throughout that year, but with a conviction behind that smile.
It was slated for 30 minutes and lasted two hours.
The first thing that struck me was the different types of conversations we had.
Rather than the expected discussion about footballs, gym equipment, and footy trips, the conversation quickly turned to matters of player welfare and wellbeing, how the players could engage with the community and assist those less fortunate, and a myriad of other non-football ideas.
The conversation established to me that he had a bigger vision for what the football club could stand for, and the role he could play in that.
It directly led to his mum Angela delivering a player welfare and education program in the new year.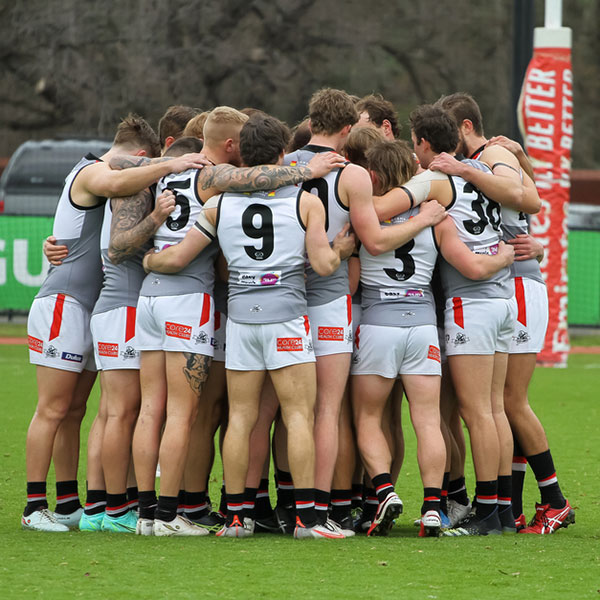 My first interaction with Josh was a year earlier where he spoke with conviction about the need for his year away from football at the end of 2017, with the lure of a holiday with friends strong.
During his season at Williamstown, he was a VFL state representative as a back pocket and received an invite to the state combine after interest had been expressed from a number of AFL clubs.
But at the same time, he felt the early stages of monotony towards the game and a feeling that he hadn't reached the right balance between an athlete and a person.
As the 2017 AFL drafts came and went without his name being called, Newman stood firm against popular opinion to scratch the itch that was his surfing trip, despite strong interest from Frankston in having him re-join the club for their foray back into the VFL.
Reflecting on it this week, Newman said he developed enormously as a person.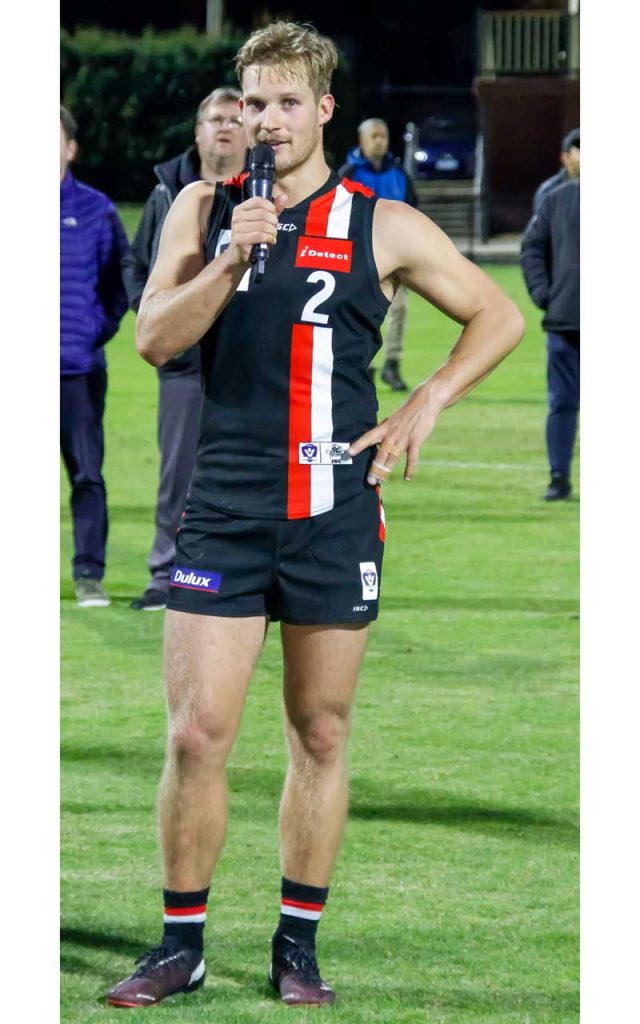 "There was something inside me that left me in no doubt that it was the right move for me at the time," Newman said.
"With the wisdom of hindsight, I know how much it shaped my values and myself as a person and also lit the flame for me to return to Frankston and also find out who I could be as a footballer.
"When I went on this trip, I thought it would be all about surfing and partying and make no mistake, I did all that and had a ball!
"But what I didn't anticipate was the 12-hour bus rides between surfing spots where you sit alone with your thoughts for hours on end.
"Combine this, with the experiences of immersing yourself in third world countries and seeing how happy they could be with so little, I came out the other side a changed person.
"I've never told anyone this, but I decided to return to Frankston part way through that year and started to write notes about how I could make the club better and be a stronger influence on others when I returned.
"Only recently I pulled out that notebook again and the best bit is that a number of those changes have now been implemented and not just driven by me."
This reflection shows an authenticity about Newman that quickly captures your attention, and he combines this modern trait of embracing his own vulnerabilities and those of others.
After Newman was dumped off the ball in last week's game against Port Melbourne, a pack of angry Dolphins appeared to fly the flag in a strong show of support for their skipper and team. That response gives an idea of the respect that his teammates have for him in return
The professionalism I saw in him contrasted the happy-go-lucky demeanour often spoken about during his previous years at the Dolphins.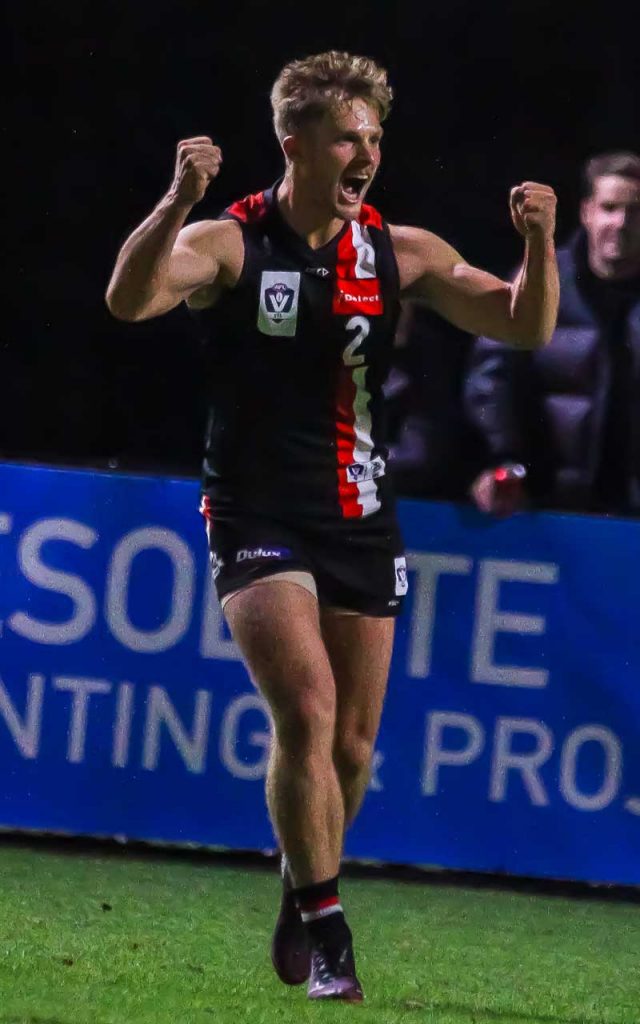 Josh took some time to fully commit himself to being a professional athlete in the VFL system after his early years were punctuated by brave performances on-field without the elite preparation off-field.
Long-term partner Sarah recalls a time early in his VFL days when she would have to raise Newman from the couch each afternoon in order to get him to training on time, or even respectfully late at times.
"Looking back I was happy to play some OK VFL footy on the weekend and carry something of a larrikin demeanour at the same time," Newman said.
"I certainly wasn't committed to all the off-field requirements like Pilates and diet that I take pride in now. I was also a long way from finding out who I was as a person and all of that combined for what some would say was a unique approach to my football."
But he was always a talented junior footballer himself, with he and AFL-listed brother Nic, growing up next door to 2012 number one draft pick and GWS star Lachie Whitfield.
Whitfield was one of many highly talented and motivated footballers Newman was surrounded with, where his competitive instincts were sharpened across all manner of activities, including basketball, football, and, for a time as a teenager, a street skateboarder.
That talent was obvious to 2015-16 Frankston coach Paddy Hill, who buoyantly recalls witnessing the beginning of Newman's rise, which culminated in him winning the 2016 best and fairest.
'He was a dynamic player with a bit of X-factor and definitely a larrikin," Hill said.
"I'm not sure he realised how good he could be. He is the type of player that you don't know how good he is until you coach him, and then you realise what a special player he is.
"I watch him today as a midfielder and a captain and I'm just as proud as punch."
His forced move to play football at Williamstown in 2017, was combined with his first year of teaching and the two experiences shaped him in ways he didn't anticipate.
As a player at Frankston, he was a free-wheeling half-back flank who had never seen a pack mark he couldn't take. But introduced to the coaching style of former Hawthorn premiership player Andy Collins, Newman was asked to temper his impulsiveness and play more as a lockdown defender. He says this was a lesson that becomes more valuable in hindsight.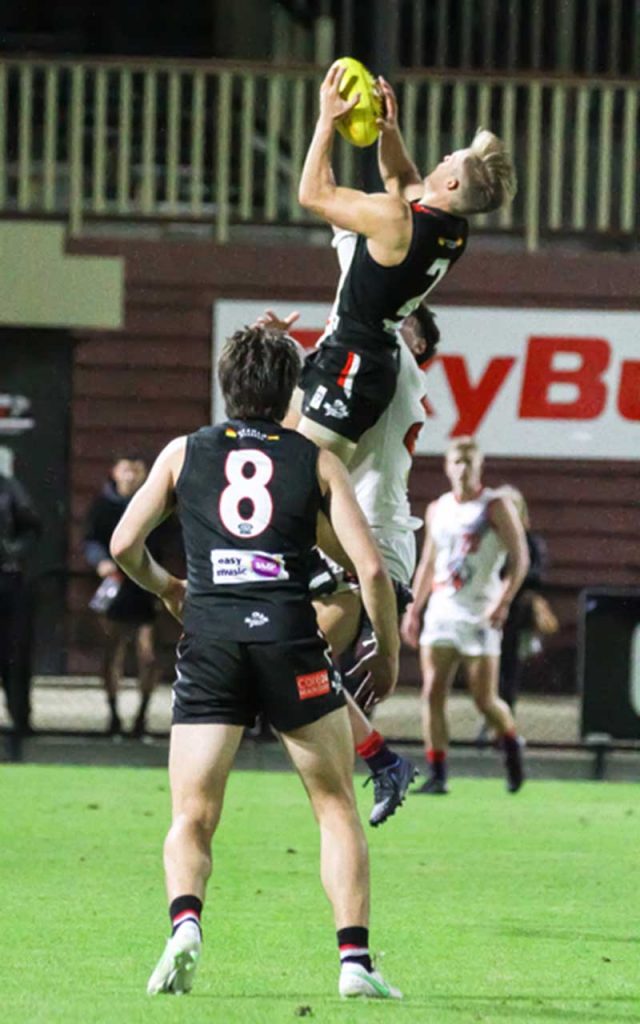 "It taught me so much about team values and playing roles that others could trust."
Equally, his first year out of university as a full-time teacher showed him the influence he could have on young people's lives and sparked an interest in leadership that had been buried somewhat to that point.
'I had a group of 25 Grade 6 students and I saw the trust that these young kids had in me and the influence my actions could have on them. I was young myself but quickly understood the responsibility I had and I think that translated into my football in subsequent years.'
Today that care and responsibility remain for his current students and he takes pride in seeing a number of them involved in assisting Frankston in various volunteering roles on game day.
In 2021 Newman finds himself leading a Frankston team that has surprised everyone in the VFL community with a 6-4 win-loss record so far and some key games ahead which will shape the Dolphins' unexpected bid for finals football.
Current coach Danny Ryan has had a rich and varied journey through football, including close to a decade inside the walls at AFL clubs St.Kilda, Port Adelaide, and Adelaide, and is an unabashed fan of Newman.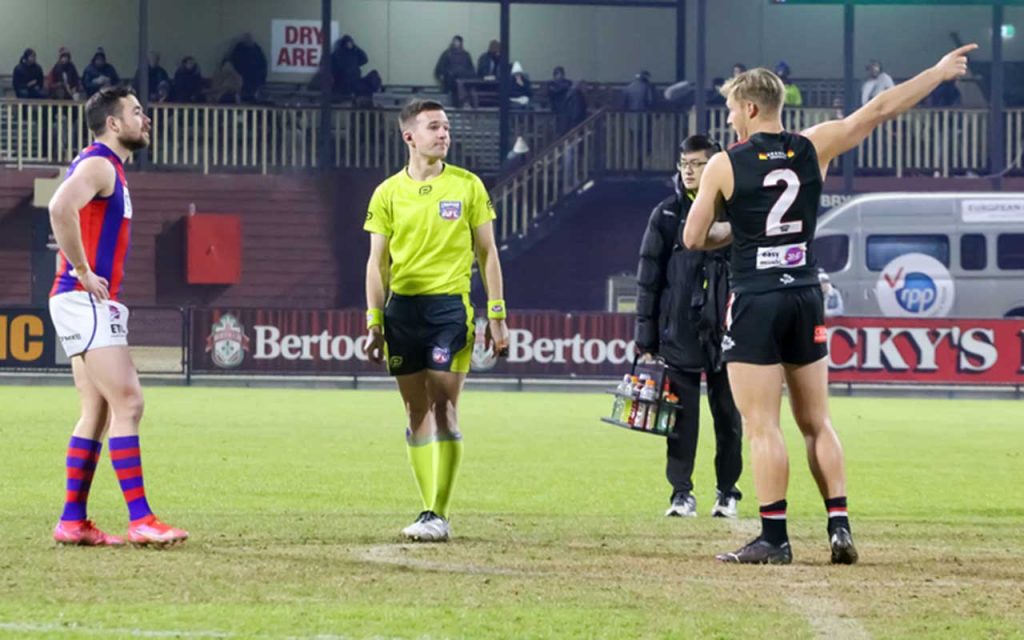 "He's growing into one of the best leaders I've worked with," Ryan said.
"He reminds me so much of Travis Boak in that he knows what needs to be done and he gets to work on it.'
As the coach who has pushed him into a midfield role in the past season and a half, he admires the way that Newman plies his craft.
'When he plays, he's got a flint-edged hardness to his game. Behind the beautiful smile and the blonde hair, he is a flint-edged warrior.
He must be so hard to play against because he continually puts his head in the trough. I'm not saying he's perfect right now, he still has areas to improve, but he is very good.'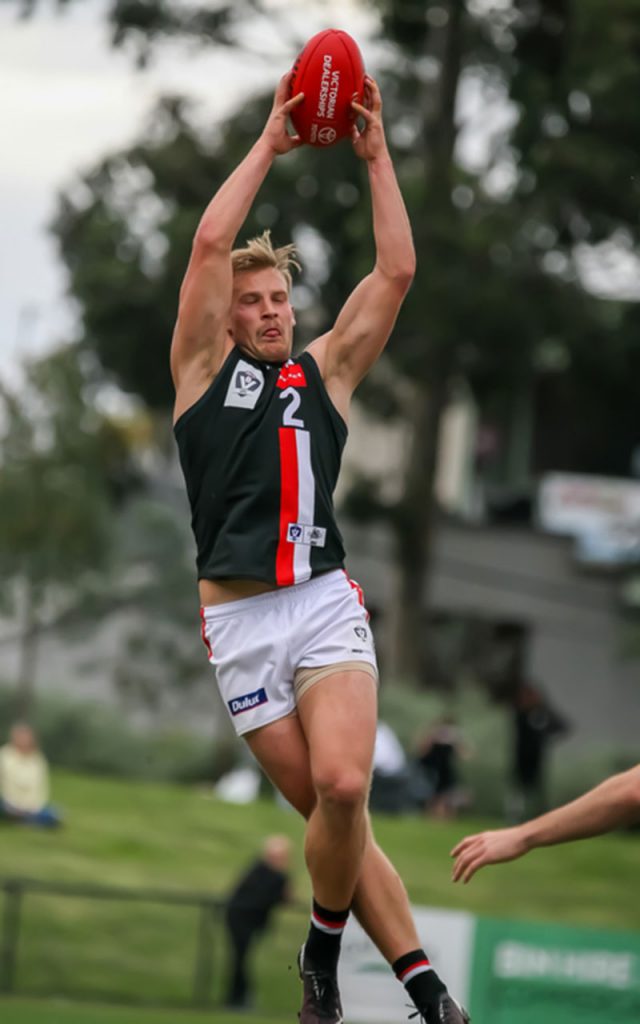 The career of his AFL-playing brother Nic is inexorably linked to his own career, with the now well-worn story that then Dandenong Stingrays Talent Manager Mark Wheeler headed to Frankston to watch Josh play for Mornington with a view to inviting him to the Stingrays squad.
Upon also seeing Nic in action, both were invited to the Stingrays, setting Nic on a path to the AFL (where he was at Sydney for two seasons and is now listed at Carlton) and Josh to his current status as Frankston captain.
Nic has watched with pride at the growth of his brother.
"Never in my wildest dream did I think he would become a VFL captain," Nic said.
"We played together for a few seasons and I value that more as time goes by, but he was a very funny guy in his early years at Frankston and would have the players in stitches.
"I actually thought he might get the travel bug when he went on his surfing trip and any footy he played after that would be with his mates at local level.
"I was a bit surprised when he committed to coming back to Frankston, but he quickly got to work on his fitness and I think those gains became a bit contagious for him and he's now in great shape to be a midfielder.
"I'm extremely proud of him and it's been cool to watch his growth."
Conversations with other family members about Josh all followed similar paths; stories of him as a youngster, the unique journey each of the brothers has taken to find their field of passion, but inevitably each discussion finished with, 'I'm just so proud of him.'
The family is ever-present at Frankston games, father Brett on the hill and mother Angela and stepfather Scott harder to pin down in a regular spot. But if ever in doubt where Angela and Scott are, wait for Newman to be dumped in a tackle or dealt with unfairly and they quickly make their presence felt – the family's protective instincts on display for all.
And now a growing number of Dolphins supporters flocking to SkyBus Stadium are also being drawn to the skipper's unflinching attack on the ball and man, and relish in seeing him lead a new breed of Frankston players playing a brand of entertaining yet honest, team-first football.
As captain of the Dolphins today, it's clear that Newman's football journey has continued to evolve. He highly values the current diversity amongst the playing group, coaches, and support staff, which his younger brother, Maverick, has observed.
"He cares so much about people. I think he cares more about the Frankston Football Club than he does about himself. He's a very generous and selfless person, and I admire him for that," Maverick said.
Teammates all use similar phrases when describing Josh Newman of today – brave, caring, respectful, selfless, and unflinchingly courageous on the field.
Midfielder Will Fordham was a major part of Josh's increased commitment in 2019 as they struck up an oft-spoken about bromance, and he sums up the players' consensus on the skipper well.
"He's one of the most compassionate, caring, selfless blokes," Fordham said.
"He cares more about my off-field more than my on-field – he's supported me through a lot of things.
"He's probably the best captain I've played under. That teacher comes off him and he's led the team from the bottom of the ladder the last two years to potentially pushing into finals this year – it's a credit to him."
Max Williams has been at the club since 2019 and speaks from the heart when discussing Josh's impact on him.
"He immediately struck me as a caring bloke," Williams said.
"The way I put it to people is that I've never really had a good role model growing up, but Josh is probably my biggest role model ever, which is funny because I'm 22 now, but I genuinely look up to him.
"I do see a lot of me wanting to be like Josh – I look up to Josh so much. I see him as such an influential person in my life.
"He's only 26 but I feel like he's so much older – he is almost like a dad around the club, as funny as it is; he's really personable and has a vested interest and cares.
"He does have that care for you as a teammate and it's infectious. You just want to give it back to him twice as much.
"He's so influential for me personally so I'm going to go out this weekend and absolutely smash myself, for him, because I want to play really well for his 100th game and get the win!"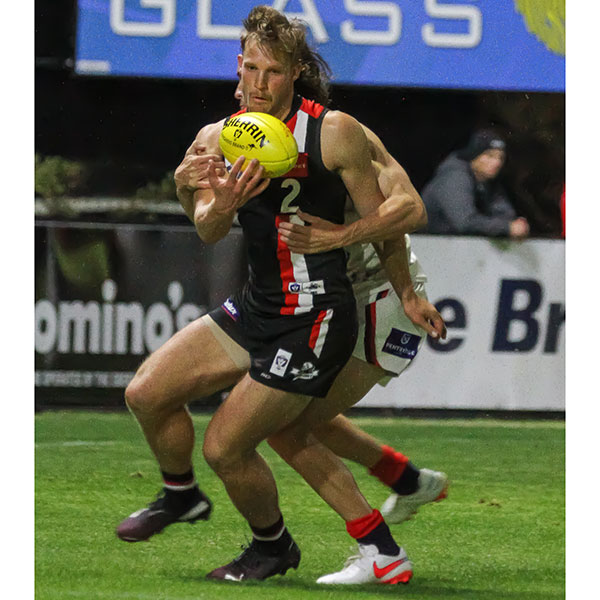 Bailey Lambert agrees.
"He gets to know you on a deeper level. Ever since the first day I signed, he'll always check up on me," Lambert said.
"If you ever look down at training, he'll always come over and pick you up with one of his terrible dad jokes! He definitely knows how to get people up for games."
Young defender Harry Loughnan offers a different perspective, as a NAB League graduate arriving in 2020 when Newman had already captained for a year, but he has noticed the same professionalism.
"Newy's been massive for a lot of the young boys in the last 18 months," Loughnan said.
"He's such a great role model and leader, but at the same time, he is an important driver of standards and knows how to get the most out of everyone.
"The way he can get across what he wants to get across in a succinct way – Newy has a really good ability to read the players and knows what to say and when.
"From the minute we walked in the door, it was evident we had a captain, and a player, and a friend that was there for us, as much as anyone else was in the team."
Vice-captains Nathan Freeman and Liam Hiscock both lauded his leadership.
"I think the best thing about Newy is he knows what his strengths are and he knows what he doesn't know as well," Freeman said.
"He's happy to ask questions and lean on DR or me, or Hissy, for things that he feels he can't do himself.
"That is one of his great strengths – he is self-aware, he is a hard worker, he loves information, he loves getting better, whether that's his own stuff on field, as a leader, or off-field.
"He's happy to delegate and get other boys involved and get different viewpoints."
Hiscock adds: "The best part about his leadership is that he can take criticism. It's an easy enough thing to say, but if a conversation needs to be had, he's very open to it. It's a real credit to him the way he handles himself. "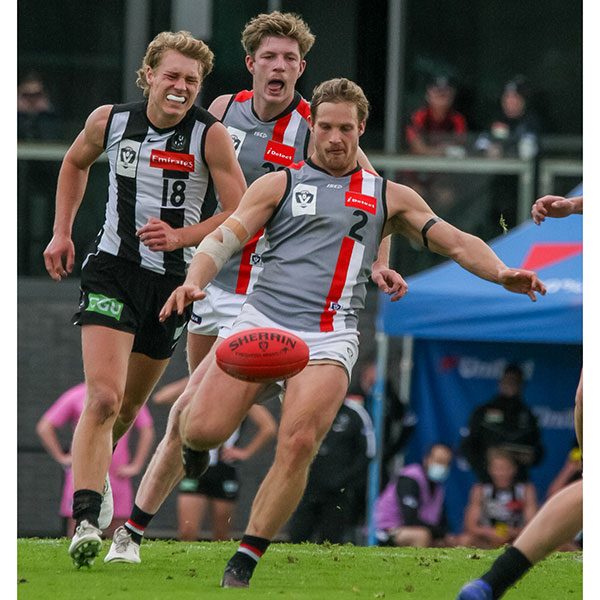 Josh's pride for the club shines through when he is given the opportunity to speak about the culture.
"Something I'm really proud of is that, as a collective, we've built an environment where we value each and every individual and the unique skillsets and characteristics they bring to the group.
"I think that has been so significant to the growth of this group and we are starting to see the results of that on the field."
"There is a connection between all of the players that is so strong today. You can see at selection each week that everyone is desperate to represent the club on the field, but if players miss out there is no bitterness; just a desire to support the selected players in the roles they are designated to take on each week."
"You can see the joy from everyone in the rooms after the game when the job is done. We all share in the success on-field, whether we get to pull on the jumper or not."
With a continued commitment to the club, Dolphins fans should celebrate the achievement of Josh Newman's first 100 VFL games and look forward to the potential of another 100 in the future. The captain of today has the chance to stamp himself as one of the club's finest ever leaders in coming years, and to lead from the front into a new era of on-field prosperity.
Congratulations Josh Newman.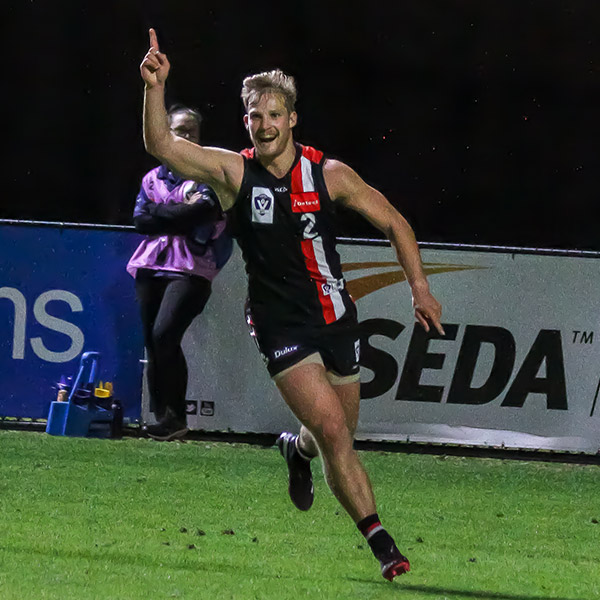 Josh Newman:
Frankston 2014-2016; 2019-current
Club Captain 2019-current
Best and Fairest 2016
VFL State Representative 2017
Best and Fairest – runner up 2019
VFL Team of the Year – 2019