Frankston women's coach Greg Hilton was full of praise for former AFLW Australian, Sharni Norder (nee Layton) after she played her first game in the Dolphins' win on the weekend.
In further positive news, Hilton confirmed she would once again pull on the guernsey on Friday night against Seaford.
Her experience helped Frankston record their third win of the season against a Mount Eliza outfit that defeated them by two points earlier in the season.
"The girls were excited [to play with Sharni]," Hilton said.
"She spoke at our Thursday night catch up after training and talked about the journey she's had with both netball and football. It doesn't always go to plan, she was saying and I thought the girls got a lot out of it.
"For someone who hasn't touched the ball for a while, Sharni was sensational.
"She took overhead marks and did the hard stuff like the follow-up, and she kept running and putting her hand up.
"She showed what it takes at a higher level, and it certainly made a difference for us, so the girls were pretty stoked to be able to play with an AFLW player.
"It was a win for women's footy!"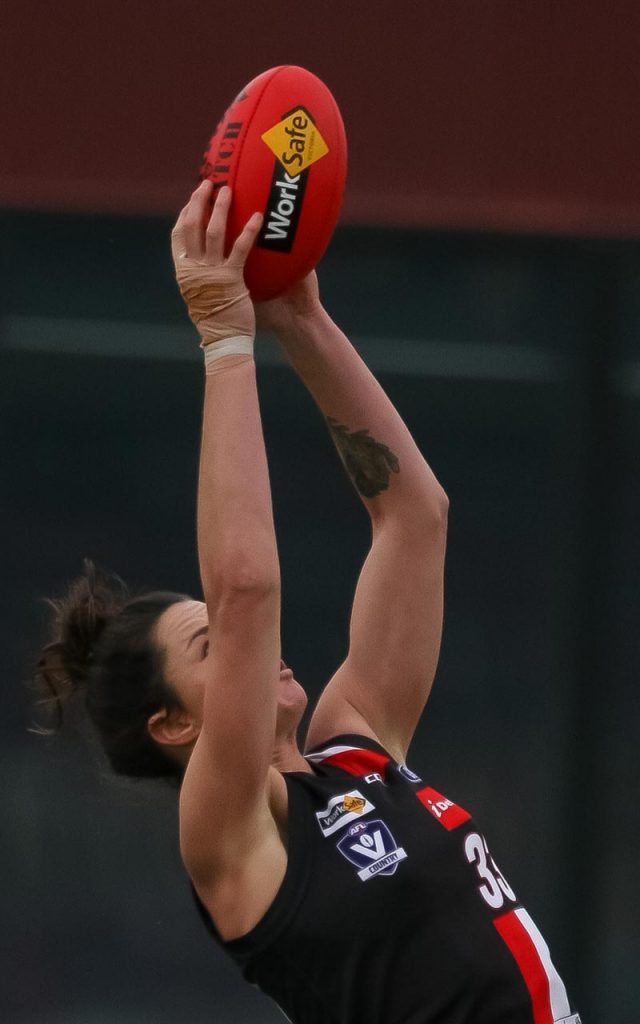 The Dolphins 6.9 45 to 0.5 5 marked their highest score of the season, and the first time they kept a side goalless.
Hilton was also impressed with Skye Haslem, who picked up plenty of the footy and has developed well this year.
The win follows a 12.9 81 to 0.1 1 loss to 2020 grand finalists the Eastern Devils, and a 3.8 26 to 1.1 7 win over Mornington the previous week.
Hilton believes that winning two of the last three has created a greater spirit around the club.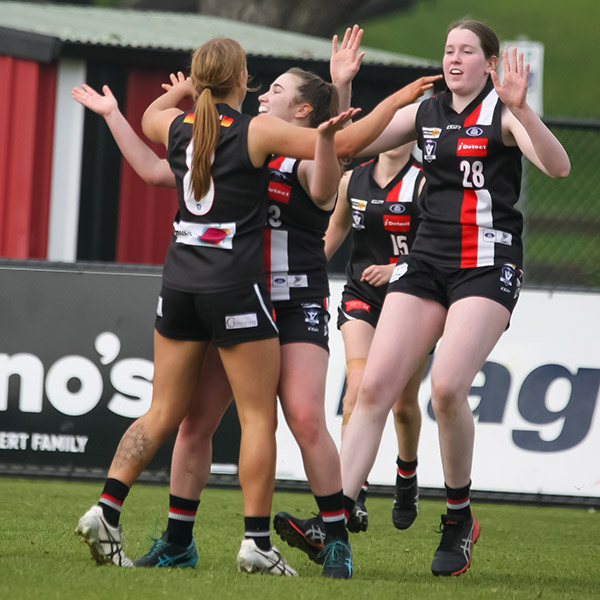 The assignments become trickier from here though, with all of Frankston's five remaining fixtures against sides above them on the ladder.
But he noted that they will be bolstered by the inclusion of 2021 Dandenong Stingrays captain Abbey Jordan, providing Hilton with optimism looking forward.
I'd like to be competitive against, and scare one of the sides above us, so my preference would be to take a scalp or maybe two.
With the inclusion of Abbey and Sharni, we could certainly push the sides above us.
The promising thing is we're kicking some goals and there are a lot of players taking that next step – it's pleasing."
Jordan had previously been with her VFLW side the Southern Saints during their run to the semi-finals.
After needing to retire several weeks ago from ongoing symptoms of concussion, co-captain Emily Archer has remained involved around the club and the coach said she has been a terrific asset.
"She's a good trooper – she gets right involved and keeps the spirits up," Hilton said of Archer.
"She's enthusiastic and loves to sing the song.
"She coaches a lot of the warmups and helped work out the ruck structure and simplifying things so she's been a good asset."
Frankston women's remaining matches:
Seaford v Frankston, RF Miles Recreation Reserve Friday July 16, 8pm
St Kilda v Frankston, Peanut Farm Reserve, Sunday July 25, 2pm
Frankston v Tyabb, SkyBus Stadium, Saturday July 31st 11am
Tyabb v Frankston, Bunguyan Reserve, Saturday August 7, 2pm
Frankston v St Kilda, SkyBus Stadium, Saturday August 14, 11am
By Jonty Ralphsmith