By Michael O'Neil and Jonty Ralphsmith
The Frankston Football Club is proud to announce that Joe Lloyd, Jackson Voss, Blake O'Leary and Liam Reidy have all re-signed for the 2022 season.
Each player will be looking to back up impressive debut seasons for the club.
2021 was the first year of senior footy for Lloyd, Voss and O'Leary as they graduated from NAB League footy to join the Dolphins ahead of 2020.
Lloyd quickly became a first choice defender. Possessing elite speed and among the best endurance runners at the club, Lloyd showed an ability to play on tall and small opponents in his eight games this season.
Voss settled in to become a midfield regular, debuting against Aspley early in the season before playing five consecutive games to finish the season.
A penetrating left boot, and poise and surety at ground level making him an enticing young prospect.
O'Leary is a zippy forward with plenty of tricks and an eye for the goals, registering six majors in his five matches.
Senior Coach Danny Ryan sees a strong future for the trio.
"They're young pros in the VFL system, which you need to be to give yourself a chance to compete and perform at this level," he said.
"We're working with Blake on his defensive game, but he has a big tank and loves getting in the gym, so he is giving himself every chance to succeed."
203cm ruckman/key forward Liam Reidy made an impact in 2021.
His first year in the VFL system, Reidy showed himself to be an AFL-style athlete. He played a solitary game and Ryan sees him as a prospect with untapped potential.
"He played against the Swans down at Werribee and made an impact in that victory. We're only scratching the surface with him, and he's one who would have played more senior footy but for the shortened season.
"Being his first year in the system he's learnt plenty about his body and we're excited to see his progress over the pre-season.'
Voss is looking forward to building on a strong 2021 from an individual and team perspective.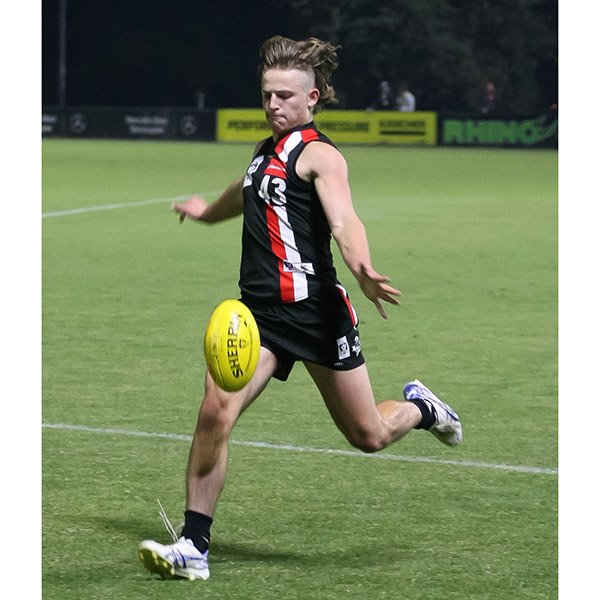 "Frankston is a good young developing club and we could see last year we were heading in the right direction and I'm glad to be part of it," Voss said.
"2021 was a good year of development for me and gave me a good indication of what it takes to play VFL footy.
"Coming into the offseason and preseason, I'll be smarter with the way I go about it and I'm confident I'll return strong and I'm looking forward to getting back down and training with my mates.
"We've built a very good culture and everyone's inclusive no matter where you've come from.
"Everyone puts in effort to get to know each other and I think Frankston's culture is different to other football cultures in that, rather than basing a culture off success, we're building success based off a strong culture we've established."
Stay tuned to the Dolphins socials for more news on commitments from players and coaches for 2022.