Months of anticipation and countless hours of planning culminated in two terrific double headers in the Dolphins past two home matches.
The MPNFL games before the Dolphins VFL clashes at Skybus Stadium- against Port Melbourne and North Melbourne- were high quality matches of local football.
The Frankston Bombers v Mount Eliza was a free-flowing contest, with Dolphins listed player Alex Harnett playing in the precursor, adding intrigue for Dolphins supporters. Harnett, who was one of a number of Dolphins very complimentary of the vocal crowd, won the It's OK not to be OK best on ground award for that game. This lead to selection in the VFL team the following week where he was a key contributor in their victory. The following week's Pines v Sorrento game – the MPNFL Grand Final rematch – promised to be a tight contest, with Pines running away victors in a superb showing of MPNFL.
In the VFL, Frankston were able to outplay Port Melbourne – a top 4 side – for much of the first half in the first double header and exhibit the Frankston brand before wayward goal kicking took its toll. It was then fitting that the 2nd double header was capped off with a win to the Dolphins, their first of the season, as they looked on fire from the first bounce to completely outplay the Roos, strengthening their lead at each break.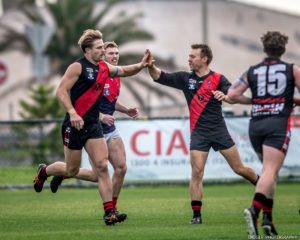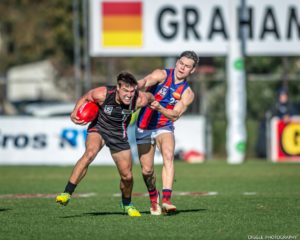 The vitality of VFL clubs building relationships with community football has seen the Dolphins receive enquiries from other VFL clubs about how they implemented such a day.
It was an excellent event for the community to support and a perfect way to strengthen the link between the MPNFL with the Dolphins. It also gives local clubs the opportunity to play at SkyBus Stadium, the premier football ground on the Mornington Peninsula.
Frankston, who promote themselves as being 'the hub of peninsula football' is working in tandem with the local league to ensure a higher percentage of MPNFL players who come into the VFL system play at Frankston. These partnerships build on the recently erected players academy which is designed to assist the pathway from NAB League and local football to the VFL and beyond.
While the funds received from the matches are still being finalised, the local clubs have been asked to report back on the success, or otherwise, of the two days to other MPNFL clubs. Provided they are forthcoming to the concept in the future, the CEO is keen to explore playing double headers with more prevalence in upcoming years.
'We made the decision to split the proceeds of the day evenly because that was the most transparent and fairest way of doing it. It's been a good return for the local clubs and a good return for us and the prospect of doing it more regularly in the future hinges on that,' says CEO Mick O'Neil.
'They were both really successful days…the general feedback has been really positive from the MPNFL teams. The feedback from the supporters has been great and the Frankston boys loved the atmosphere.'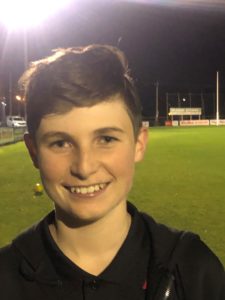 Article by Jonty Ralphsmith
Dolphins Digital Media Team