When Will Fordham crossed from North Melbourne to Frankston he was a wingman. A talented wingman, but only a wingman. He knew if he wanted to find his way back to an AFL list, he needed to add versatility to his game.
The 23 year-old spent the maximum three years on the rookie list at North Melbourne before being cut. He grew in confidence, most noted for his aerobic capacity and core strength. His consistency improved in the VFL during his tenure at North Melbourne, but was ultimately unable to make his AFL debut, before being delisted in 2017.
'When I came down to Frankston and spoke to Adam Skrobolak last year, he said I was able to take a role as an inside mid so I was able to develop my game in different areas and continuing this year with Danny Ryan, I've been able to strengthen those skills.'
I've got no more pressure of having to play the way North Melbourne wants you to play in the VFL. I can play with a bit more freedom in a few different roles.' As well as playing on the ball and as an outside runner, Fordham played much of his junior career as a deep forward to add to his dynamism.
Frankston being a standalone club also allowed him to play more freely without the pressure of his spot being taken by an AFL listed player.    
A young Frankston side looked the most attractive option to Fordham, who was keen to improve his leadership and take on more responsibility.
'My leadership has been an area I've wanted to improve so coming to a team that just starting up again, even though I'm young, gives me a chance to (do that).'
He was appointed to the leadership group in 2018 soon after joining the club and continues in that role in 2019. With the title comes more accountability which Fordham has relished, stepping up in big moments and playing consistently high-level football.
His leadership is exemplified by his work ethic and preparation, spending extra time at the gym to be at his best on game day and putting extra minutes in after training to improve his connection to forwards inside 50.
This season Fordham has split his time playing on the ball and as an outside runner, averaging 23 disposals with his best match coming in the win over his old North Melbourne team-mates where he gathered 29 disposals in a best on ground effort.
He remains optimistic about his chances of getting drafted in the future, so will look to consistently display his multi-faceted skills for the remainder of the season.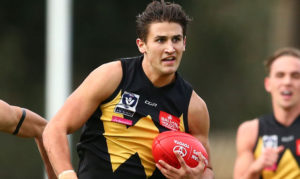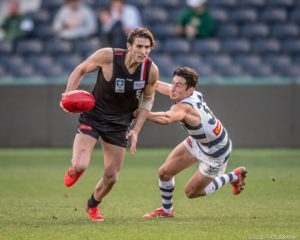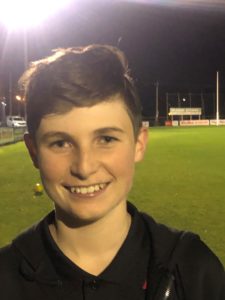 Article by Jonty Ralphsmith
Dolphins Digital Media Team