Frankston have followed up their prolific first win of the season with a disappointing 89-point loss to Geelong at GMHBA Stadium.
The Dolphin's were star struck by the fast starting Cats and were unable to reel the disciplined side in, going down 19.13 (127) to 5.8 (38).
Geelong got off to a flying start kicking the first three majors inside five minutes before giving Frankston any look inside 50.
It took a magical pickup and handball from Goy Lok at half-forward to get the Dolphin's on the board through Yilber Zijai.
As Frankston threatened to join the game after the slow start, the Cats would lengthen the margin through efficient goal kicking and using their strength of height down the boundary.
Jimmy Miller ran into an open goal that began from patient defensive transitioning, before two free kicks within 30m of the Cats goal allowed them to deflate any sort of built up momentum from the Dolphin's heading into the first interval.
Geelong opened with a goal early in the second term but it was shortly followed by a stylish long range major from Alex Harnett.
For the remainder of the term Geelong demonstrated their AFL depth with players such as Constable, Selwood and Simpson having high impact at the stoppages.
At half-time with only 23 tackles to the stat sheet, Danny Ryan baked his players – demanding a better display of effort, intent and hunger.
Jason Kingsbury was asked to shut down potent Geelong midfielder Sam Simpson who had 13 disposals and a goal in the second term.
Although the scoreboard may not have reflected the response in the third term, the effort had increased. Aloysio Ferreira applied a bone crunching tackle on the wing and Mitch McCarthy proved a dangerous option when swung forward.
Kingsbury was following Simpson closely, keeping him to the five disposals for the term and laying two tackles.
But it was Frankston's fundamental errors that allowed Geelong to kick away with the match. To make matters worse for the Dolphin's, Aloysio Ferreira who had been having a fantastic game hobbled off with an ankle injury and was ruled out for the remainder of the match.
In the final term, Ryan wanted his players to play the Frankston brand of football.
Geelong began with repeat inside 50s and threatened to open the game up, but Dylan Gordon's repeat efforts and penetrating ball use halted the Cats on several occasions.
Max Williams shortly followed Ferreira to the bench as he went down with a knee injury, leaving the Dolphin's with two on the bench for the best part of the final quarter remaining.
But the Dolphin's didn't give up the fight, Harnett took a gutsy grab in the middle of the ground and was gifted a 50m penalty that brought him within range to kick his second.
However, as it occurred all day, when Frankston shifted the momentum, Geelong snatched it straight back kicking a goal from the very next centre bounce.
Frankston seemed to have benefitted from sticking to their individual game styles in the final term as they took it right up to the Cats.
Mitch McCarthy went back into the ruck and sent a textbook tap down to Nathan Freeman, Freeman went long and direct to Will Fordham who out bodied his opponent and kicked his first major of the afternoon.
McCarthy again took a mark at half-forward and was rewarded with a 50m penalty to give him the Dolphin's third for the term and to tie the final quarter.
Nathan Freeman (36 disposals) continued his push for an AFL rebirth come seasons end, recording over 30 disposals for the fifth time this season.
Coach Danny Ryan was extremely disappointed in the match after his side demonstrated what they are truly capable of in their win against North Melbourne.
"Without watching it back I would've thought last week we were proactive this week we were reactive; we are playing a different opponent we understand that.
"But we lost our braveness today. In defense and in attack.
"When you lose your braveness you can't dictate, you can't move the ball the way you want to move the ball, you lose trust in each other and your game plan sort of fragments a little bit," He said.
Since returning to the side, Alex Harnett has been in brilliant form, being a prolific target forward whilst being able to chop out in the middle. Ryan says he is pleased with the acquiescence of the 23-year-old.
"I thought Alex was very good again today, the two weeks he has been in he has been what we have been talking about.
"He has been compliant, we can trust him to play his role, it's not about his numbers and stats – it's about how he contributes and plays his team role and so far he has done a great job," He said.
Frankston will come up against Coburg this Sunday at Skybus Stadium, despite the Dolphin's registering their other win in 2018 against Coburg, Ryan is well aware of what the same side did in round three.
"We have addressed that in the team meeting, I think the players and coaches were all in it together, we all take ownership of our preparation this week.
"Your execution becomes the output of that preparation, it will be a sharp review Monday night, we will take our lessons out of today and get to work.
"Because last time we played Coburg they won by 75-points, there is no taking anything for granted.
"We are right up against it next week, we are right back with where we were a couple weeks ago and that's what is most disappointing about today," Ryan said.
SCORE:   FRANKSTON 5.8.38 DEF BY GEELONG 19.23.127
GOALKICKERS:
Harnett 2, Zijai 1, McCarthy 1, Fordham 1
DISPOSALS:
Freeman 36, Gordon 20, Fordham 19, Jarnestrom 18, Mullane 18
BEST:
Harnett, Gordon, Ferreira, Zijai, Jarnestrom, Freeman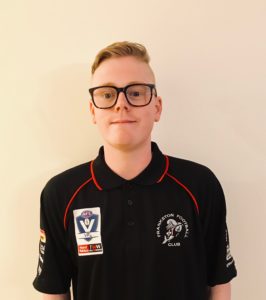 Article by Tyler Lewis / Photo's by Diggle Photography
Dolphins Digital Media Team