Nathan Scagliarini was always going to work hard this winter. But the 20-year-old expected his year to be revolved around footy, not helping the Dolphins launch their Food Crisis appeal.
It was the perfect recipe for a break-through year for Scagliarini, with a big pre-season and more continuity within the team seeming to set up his season magnificently- but a shoulder injury in round 1 ruined those plans.
Instead of crying about 'what if ' as many would, he wanted to contribute. That's when he decided to help launch Dolphins campaign to aid the Frankston Crisis food appeal.
'We hope to get the boys down there a couple of days per week and just talk to them and see how privileged we are to be playing down here. There's bigger things to life than losing a game of footy,' Scagliarini told Frankston Dolphins Media.
'We want to see how much we can get it going and donate for them. It's all about building to bigger things next year so hopefully we can make a contribution.'
The 20-year-old's work has allowed him to see the bigger picture to his injury which is just a blimp on his career.
'I'm going through a couple of injuries which isn't the end of the world- I'll be back playing footy soon, but these people are trying to find somewhere to sleep each night and have to hustle to find food. It puts life into perspective.'
'I did a little bit of volunteer work and just thought how awesome it is, it makes you feel like you are helping out which encouraged me to do this.'
The man they call 'Scag Bol' is ironically urging them to donate just that- Spaghetti, bolognaise and even beans instead of taking the easy option of donating items at the back of the pantry.
Scagliarini's shoulder injury is progressing very well; he has resumed running in the past two weeks which has added spark to the group.
He took a break from footy at stages through his injury to focus on other areas in is life which he believes has benefited him immensely. The mature Dolphins midfielder has been able to strengthen his legs in his time away which will hold him in good stead as he looks to build up his load in the coming weeks.
'I've been super keen to start training, joining in with the boys has been a big motivation.'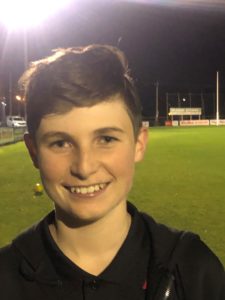 Article by Jonty Ralphsmith / Photo's by Diggle Photography
Dolphins Digital Media Team