Part 1: Appreciation for footy and injuries
True love can only really be known in the face of sheer adversity and hardship.
Frankston midfielder Nathan Freeman's ability to fall over twelve times and get up thirteen all while upholding dignity and optimism towards footy epitomises his innate affection for the game.
"Having been through what I've been through, I look forward to going to training three nights a week and playing on the weekend, particularly now because footy is my release, not my job," Freeman told Frankston Dolphins Media.
"When I'm playing footy, it's just the best thing ever. The time away gave me more of an appreciation for footy and now I see it as a privilege to play with my mates and perform well."
"I watch footy shows and consume heaps of footy. I love the game and the enjoyment factor has gone through the roof which has come through the experiences."
"There were times where I switched it off because I hated it, but I went back and thought 'why am I dismissing my favourite thing in the world?"
"To play footy though, you have to realise the question isn't if you'll face adversity. It's when."
"There were times where I wondered if I was ever going to be able to play out there again."
"When I first returned from injury I had the mentality of playing and trying not get injured whereas you almost put yourself at more risk of getting injured if you play like that.
"So I went the other way and said 'stuff it, if I get injured, it is what it is, it's part of footy.' That was such an important shift in mindset in terms of playing at my best."
"The more games I play, the more confidence I get in my body. I know what I've got to do every week to perform and hopefully soon I'll get back to where I was when I was 18 (before the injuries)"
The 24-year-old has had 'about 12 right hamstring setbacks,' with shoulder, left hamstring and hip woes further punctuating his career but a constant theme through each setback has been positivity.
"I've always been an optimist- I remember when I first did that hamstring, the doctor said it'll be a four-week injury; I said 'bloody oath, I'll be back in three.'
"But I think that grew through my injuries. Now I'm happy to miss one week here or there to benefit me in the long term."
This was exemplified by his preparedness to miss three matches earlier in the season for precautionary hamstring 'awareness'- a far fetch from trying to recover from his first major injury in that same length of time.
When asked where he wants his body to get back to, he reminisces his under 18 days where the only time 'soft tissue' was only a part of his vocab was to sympathise a team-mate's bad news.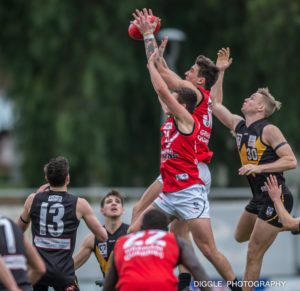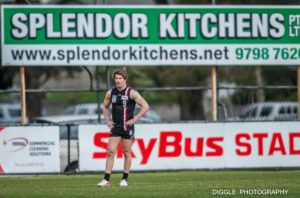 Part 2: AFL career, Frankston & work
Taken at pick 10 in the 2013 draft by Collingwood when he feels his body was at its peak, the former Pie made an immediate impact in preseason, performing strongly in time trials, which typified his body of work through pre-season.
He was influential in his first match in Collingwood colours- a pre-season fixture against the Cats on a fine Geelong night- and with seven early possessions threatened to tear the game apart. But unfortunately the only thing that tore was his right hamstring.
"It was a weird one because it was in the second quarter so it wasn't due to fatigue or anything- it was just out of the blue."
"It ended up being unique- it was my right hamstring but we could never put a finger on what it was exactly," Freeman recalls.
Having played his requisite two seasons at the Pies where his body had about as much consistency as Melbourne's weather, a move to the Saints- where he spent three seasons- saw him make progressive inroads, the crème de la crème coming in round 20 last year.
"The club was an extension of my family and friends during the challenges so I was rapt to debut and repay their faith."
Delisted at season's end with two AFL games on his resume, Freeman came to Kars St with one goal: durability. His self-set quota was fifteen matches this season and while a right hip injury last weekend will limit him to twelve, he's happy to douse the wound with vinegar and view the positives- he has averaged over 30 disposals in the full games he's played to show that, when fit, he is among the Dolphins most influential.
"I think I'm getting the run and power back and I haven't lost the ball winning ability but I just want to be more damaging which I'm working really hard on."
Away from the field, he is unsurprisingly still involved in footy, working alongside Robbie D'Orazio and Paul Connors, two of the games finest player agents scouting young talent where his five years on an AFL list and positivity come to the fore.
"I always wanted to be involved in footy after my career in some way," Freeman quipped.
With how my career panned out I had experiences that would really suit the role. You've got to have a lot of care and guidance for these blokes who are just forging their career in the AFL as young players which is where I can draw on my experiences."
"I'm just dipping my toes in and learning the ropes right now and Paul and Robbie have been good with that- no better mentor than them."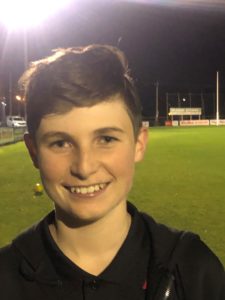 Article by Jonty Ralphsmith / Photo's by Diggle Photography
Dolphins Digital Media Team