If you asked a teenaged Mitch McCarthy what his biggest loves were, footy and basketball would be forefront. But if asked to choose one, the equation became much tougher. Basketball took him to America and footy took him to the Collingwood Magpies.
Aged sixteen, he ventured to California with the purpose of pursuing an NBA career. But the outcome was realising how deep his love for football was.
The Frankston midfielder with Indigenous ties was homesick, craving the Australian culture and especially longing for a sherrin. That's when some text messages from mates pushed him over the edge. He had loved his stint in America- highlighted by captaining the Victorian school basketball team- but home was calling.
"There was a two-week period there where I thought, 'gee I'd love to come back'," Mitch McCarthy told Frankston Dolphins media.
"After hearing from a few mates, I dropped a message to Mark Wheeler who was at the Stingrays and told him that I was missing footy."
"He must've messaged a few clubs because in the next few days I had Collingwood and the Adelaide Crows message me and that was enough to flick the switch."
"One of the main things that brought me back was footy, I just missed it. I thought I'd be okay when I was playing basketball but once I was back here with footy, I was a much more comfortable person."
Upon returning, the Mt Eliza local appreciated the Australian culture far more, and was ready to resume his footy career with the Dandenong Stingrays, aged 19.
"During my time at Dandenong, I broke my foot so I had nothing to do. I'd never hit the gym before, so I hit the gym and ate a lot more food."
"I was able to get from 85 kilograms to 96 kilograms when I got drafted. I felt a bit like a truck."
"I was definitely slower and got a bit of shin soreness and sore knees from putting on the weight so quickly."
Despite initial fears, his foot injury wasn't what prevented him reaching his full potential at the Pies. It was the time spent in America that would have long-term ramifications.
"The years I missed is where you learn all your stuff. From basic structures to terminology and knowing your footy words, I missed it all."
"Therefore, I lost a lot in translation, especially at Collingwood. I didn't understand certain things and I went into my shell a little bit there. Being afraid to speak up and ask questions didn't help either."
"It was really good but a shock how full on it was," McCarthy quips of his time at Collingwood.
"There was a lot of theory-based learning and structured game plan. It taught me a lot, specifically ruck craft is what I worked on- just sharpening my axe there."
"Anthony Rocca was a really good mentor. He taught me a lot."
"(Collingwood coach) Nathan Buckley always said when I got delisted 'mate, we think we've actually picked you up a bit too early. You haven't played enough.' I'd only played, including juniors, about sixty games of footy.''
The now Frankston ruckman then played just five VFL matches at Collingwood in 2017, before being delisted.
That's when Frankston swooped, McCarthy joining at the start of last year and playing eleven matches in 2018.
Having so far played 10 games this season, he looks set to eclipse last year's mark. The 196cm unit believes the continued exposure at VFL level has been tremendously beneficial, hitting a rich vein of form in the past month.
He can now also confidently answer the enduring question of his favourite sport- footy.
"I feel like I'm a better footballer now than I was at Collingwood. Maybe I'm not as physically fit but my knowledge and my skills are a lot better than they were at the Pies."
"I'm still not satisfied with my body at the moment, I want to fill out, maybe get to 100+ kilos (currently 95), so I've got to work in the gym and just put a bit more muscle on."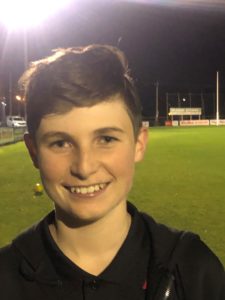 Article by Jonty Ralphsmith / Photo's by Diggle Photography
Dolphins Digital Media Team