Culture close to Aloysio Ferreira-Neto's heart
Aloysio Ferreira-Neto is a man of many talents. The Frankston midfielder can speak Portuguese, cook and is more than handy with the round ball. And that's before you enter footy. It all stems from his proud Brazilian background.
'I'm very proud of my heritage,' the 23 year old told Frankston Dolphins media.
'My Mum and Dad have always been very mindful of keeping that culture going in Australia.'
Having migrated to Australia aged 11, he doesn't remember much about his time back home in central Brazil, but was a typical soccer loving South American kid idolising Brazilian star Ronaldinho.
'I remember being 5 years old in Brazil playing soccer with my mates barefooted on asphalt,' Ferreira-Neto recalls fondly.
'Soccer's always been my first love and I think it always will be. I've got a soft spot for it. I still play a bit of indoor soccer every once in a while as well. it's grouse.'
The 20 year old also fancies himself in the kitchen where his native roots shine through.
'My signature dish is spaghetti with chicken. Dad introduced it ages ago and that's a dish I have had before every game for the past six years.'
Ferreira-Neto's first footy memory was the famous Brad Johnson mid air banana from the boundary line in 2005. A primary school teacher constantly showed Western Bulldogs' highlights which convinced him to follow the team out west.
'I started following the Dogs when I first moved here but I never thought I'd be playing the game because I thought it was ridiculous how people would run into each other. For me that was just mind blowing.'
But as his friends, one by one, took a liking for the game, weekend footy matches begun dominating Monday conversations. The enjoyment they got out of Aussie Rules was incentive enough for Ferreira-Neto to switch from soccer to footy.
'I went down to a local training session and it just stuck because it's been so good.'
His family has also, perhaps surprisingly, taken an interest in the Aussie game
Dad has a good footy brain for somebody that didn't grow up with it and mum was just like every other mum. She didn't want to see me getting hurt but my brothers really enjoy it.'
Family is central to Brazilian culture. Ferreira-Neto speaks to his family every few days and regularly catches up with them.
'I don't think I'd spend more than two weeks away from my family. When we see each other, we have Churrasco, which is a Brazilian barbecue on charcoal rocks.'
'We love getting the music going as well and culture in general. It's a really good time.'
The 23 year old is also fluent in Portuguese, but has been unable to regularly exercise his linguistic expertise since moving to Australia.
'I don't speak a whole lot of Portuguese anymore because I'm not at home but when I see mum and dad I still speak Portuguese.'
Ferreira-Neto picked up English quickly and is now one of the most vocal players around the club. His next step as a footballer, he believes, is translating that loudness onto the field.
'I'm one of the oldest guys at the club so I think it's time for me to develop that into my game. I am that person naturally so it's just that progression onto the footy field.'
'I want to be more vocal. I'm a very loud guy around training sessions but when I get on the field I tend to go into my shell. I need to come out of my shell; be more of a leader on game day.'
Ferreira-Neto will tomorrow reach his fifty game milestone. A classy midfielder whose clean around the ball, the South American has been a constant performer for Frankston since crossing from Casey at the start of last season, the milestone is a testament to his dedication, durability and passion for the game.
Get down and support Aloysio and the boys tomorrow as they seek their second win of the season against Collingwood at 2.00pm, SkyBus Stadium.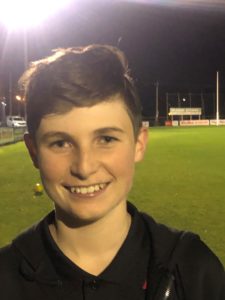 Article by Jonty Ralphsmith / Photo's by Diggle Photography
Dolphins Digital Media Team