Footy has always been an outlet for Frankston midfielder Gus Styles. A hobby. Never has the former Swans rookie wanted his legacy to be defined by footy, nor has footy been his foremost priority. That's why his name being read out as pick 15 at the 2017 rookie draft came as such a surprise.
'It was really great, but I definitely wasn't expecting it… I lived with the fact that I didn't do everything I could footy wise in my top age year. When I was at training, I'd give my all, but I didn't do any extras,' Gus Styles told Frankston Dolphins Media. He was especially surprised to have been picked up by the Swans.
'I spoke to them for about 15 minutes before the draft. I got passed on the national draft, and (I was told) one of the list managers from Sydney was going to give me a call each day leading into the rookie draft.' They didn't.
Certain he wouldn't be drafted, he decided to wash away his disappointment by venturing to Byron Bay. Schoolies. Unbeknownst to him, he would be catching a plane back from Byron Bay little more than 24 hours later an AFL footballer.
For all of 2017, study took precedent. He obtained five study scores over 40(/50) to put him in the top echelon of students in the state. School was the main motivator for Styles in year 12. He loved it as he looked to set up a future in teaching.
He ended up spending a year on Sydney's rookie list in 2018 and surprised even himself with the improvement he made. As well as working on his cleanliness and tackle pressure, he enjoyed the marginal gains such as dealing with mismatches and learning some basic martial arts.
'Everyone [at Sydney] wants you to get better which really helps. I also spent a bit of time with Jarrad McVeigh; he took me under his wing and if he'd pull me up or had a criticism of me, I'd listen to him. He commanded such respect around the club.'
Despite progressive inroads being made on the footy field, he noticed what was once his outlet on weekends had become a job and he needed a release. One he didn't have.
'Living away from home, I struggled a fair bit. I did myself a disservice because I was very closed minded and serious. I needed to figure out how to find an outlet because footy was consuming my identity.'
Through the hardships, Styles kept returning to the mantra that he got paid to stay fit and healthy, disciplines that will help him his post-football. But while he benefited physically, the emotional toll was equally damaging.
The twenty-year-old tried attending University and partaking in a school mentor role. He stops short of calling them outlets though. His mind was constantly occupied by the need to get a contract extension.
'It wasn't a healthy mind-set, but I thought in order to get the best out of myself, I had to completely devote myself to football.'
The most emotionally difficult time for Styles was being delisted, after just one year.
'It's always tough to hear that you're not good enough but I think the thing that helped me most was just accepting it…because I think I was getting a little bit burned out, I needed time to reflect and see where I was at. I look back at it and I absolutely understand why I was delisted.'
'I was at a stage where I was wondering if I wanted this to be my life. I was wondering whether I was the right kind of person to be in the position to play AFL because I overthink everything.'
An overseas holiday where the former Swans rookie could escape and gather his thoughts was an essential part of transitioning out of the professional footy environment.
With the support of family, he has been able to reintegrate into old friendship groups, gain stable employment working at a local café and he's started his long anticipated teaching degree. And then there's footy.
'I'm really happy with where I'm at even if I'm not shooting the lights out on the footy field,' the Frankston midfielder quips, who is noncommittal about having the desire to return to the AFL.
'I definitely wouldn't rule it out. I'm not sure at the moment because I'm enjoying the balance that I've got now. I've got all this other stuff in my life that I enjoy.'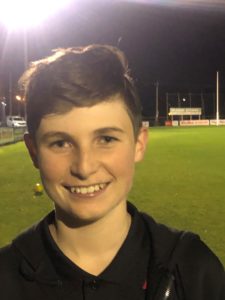 Article by Jonty Ralphsmith / Photo's by Diggle Photography
Dolphins Digital Media Team