"Last year we weren't even in the hunt against teams, this year we are losing by a kick, is that a positive, yes it is, we have definitely progressed and playing a better brand of football but we aren't winning games when we should be winning games"
Dolphins coach Danny Ryan is patiently waiting for everything to click as his side goes down again in another nail biter.
It wasn't the prettiest of contests, but Frankston were in it all day, not giving up and unfortunately losing a game that they shouldn't have, going down 7.11 (53) to 7.13 (55).
Collingwood had the early ascendency kicking the first two majors of the afternoon, before Jimmy Miller found himself in unfamiliar territory, roving the pack and crumbing a goal.
Alex Harnett then won the ball at half-forward, wheeled onto his thumping right foot and put the ball deep inside 50, Mitch Cox climbed into the sky and set up camp on his opponent's shoulders for what felt like an eternity – before bringing down his screamer and putting the Dolphins in front.
A late Magpies major saw Collingwood head to the first break leaders, but there was Dolphins building monster games in crucial spots of the ground.
Mitch McCarthy against his old side was enormous in the ruck with 15 hit outs at quarter-time while Will Fordham had nine disposals and four tackles at quarter-time.
The Pies surged hard early in the second but couldn't convert while Robbie Turnbull started to influence the contest physically all over the ground, at the other end Corey Rich kicked a tremendous banana to bring the margin back within a point.
Moments later, Harnett set up Cox again for his second, this time the mark less memorable but more importantly gave the Dolphins the lead again.
Two late majors for the Magpies sent the Dolphins into the main break in deficit, which wasn't a reward for the control of play throughout the second term.
Both sides were playing it safe, respectively only adding the one major in the third term, Frankston came through Will Fordham who take the advantage on a free kick won by Jimmy Miller at the top of the goal square.
Trailing by eight-points at the final break, Danny Ryan pleaded with his players to play their best 25 minutes of football.
Goy Lok took an important mark inside 50 to trim the margin to under a kick before Corey Rich put Frankston ahead.
Collingwood stole a major against the momentum mid-way through the final term that put Magpies in front and with the plethora of missed opportunities that followed, ultimately won them the game.
Despite not having as many wins as this time last year, Danny Ryan is focusing on his sides improvement and performance each week.
"I don't think a lot about the numbers," he said.
"It is how we play week in, week out.
"We are a different team (than last year) and I think we are a better team, playing better footy, but not today," Ryan said.
After a slow start, captain Josh Newman was monumental in the second term, collecting 14 disposals and a tackle. But it was his incredible courage that was his downfall, going down with concussion late in the half after throwing his body into yet another contest.
"Injuries are a part of footy, it happens," he said.
"You hold your breath when one of your better players goes down, it's a part of our recruiting attention that we already have Nathan Freeman in the stands.
"So Freeman, Fordham and Newman are our three best midfielders and to only have one of three is pretty hard," Ryan said.
Frankston will follow up the match against Collingwood by travelling to Werribee to take on the Tigers who the Dolphins challenged immensely earlier in the season.
SCORE:
Frankston 7.11.53 deaf by Collingwood 7.13.55
GOALS:
Rich 2, Cox 2, Miller 1, Fordham 1, Lok 1
DISPOSALS:
Lok 24, Fordham 21, Ferreira 20, McCarthy 18, Mullane 18
BEST:
McCarthy, Hiscock, Mullane, Lok, Harnett, Miller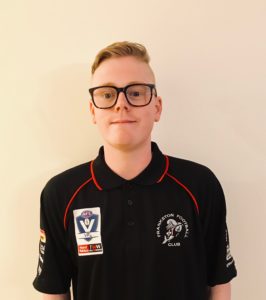 Article by Tyler Lewis / Photo's by Diggle Photography
Dolphins Digital Media Team