Last month Aloysio Ferreira-Neto told Frankston social media's 'Inside the Pod' that his favourite thing about playing at Kars St was 'getting to play with some of [his] best mates.'
A plumber by trade, being around the boys at training allows the vigorous on-baller to maintain his energetic persona throughout the entire day.
It's been pretty tough," Ferreira-Neto quipped.
"Something I look forward to after work every day, it doesn't matter how tired I am, when I know I have training in the afternoon it gives me a little bit of extra energy to get up and about when I see everyone.
"I miss it a fair bit so I'm looking forward to hopefully getting back into it."
Despite waking up at 5.30 for work, having lunch at 3.00 when Frankston Media spoke with him on Wednesday, with two jobs and training still left to round out his busy day, the fan favourite has perspective.
With business still relatively steady, working the exhausting hours of a 'drippy' is for once a blessing.
Ferreira-Neto's go-to training partner has been Dylan Gordon, when their Ballam Park sessions can be co-ordinated around work.
Fartlek interval running makes up most of the Brazilian's regime, and precede his twice weekly skills sessions.
Despite those skills being limited to basic kicks, handballs, marking and groundballs, the 52-game VFL player remains driven.
The potential of playing AFL-aligned clubs later in the year without the AFL listed players will give Frankston extra scope for success.
"The opportunity we have now is that clubs are coming back down to an even standard because there's not AFL players in there.
"It is a really good opportunity for us to make a mark on the competition.
"It's really exciting because we want to get better, and we want to drive each other to get better and the opportunity in front of us is the fact there are 12-13 players who have at least a full season under their belt whereas some other sides will have guys that aren't as experienced.
"We've done the work. I could really sense the playing group coming together (before the season was put on hold).
"We were ready to go out there and just play for each other. The playing group is really close and the players we've brought in have complemented the core group we kept from last year.
-By Jonty Ralphsmith
Dolphins Digital Media Team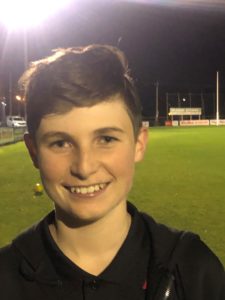 Follow the talented musician on instagram @lachiegillmusic