For the first time since 2001, Frankston enters round three undefeated. In round one they comfortably accounted for Coburg, with the star trio of Will Fordham, Josh Newman and Nathan Freeman gaining the ascendancy in the midfield. In round two they were the better team from start to finish, looking the more experienced outfit. In the absence of Liam Hiscock and Max Williams, both absent with injury, and the departure of Dylan Gordon, the Dolphins defence has been inexperienced. But they have been up to the challenge, only conceding five goals last week. There have been impressive components on every line in a great first fortnight for the Frankston Football Club, topped off by the women winning their inaugural match last Friday night.
2. The small forwards are exciting
Former CEO Michael O'Neil referred to the small forwards as the 'mosquito fleet' in round one. 'Buzz brothers' is another name that has been thrown up. But Blake O'Leary prefers the title 'piranha pack' and it aptly sums them up. They hunt in packs, apply tackling pressure and seize on their prey by kicking goals aplenty. The Dolphins have registered over 100 points in both of their first two matches, thanks in large part to the pack made up of Jack Mentha, Blake O'Leary, Ash Krakauer in round one and Nathan Scagliarini in round two. Bailey Lambert, although technically a medium forward and thus not a 'card carrying' member is one worth including too. His defensive pressure in round one allowed Frankston to lock the ball in at stages, and is clean overhead, with seven goals from his first two outings. Of the 36 majors Frankston have kicked this season, the small forwards (including Lambert) have contributed 18. It is exciting viewing and Jack Mentha's evasiveness and mullet in full flight have the potential to become a crowd favourite.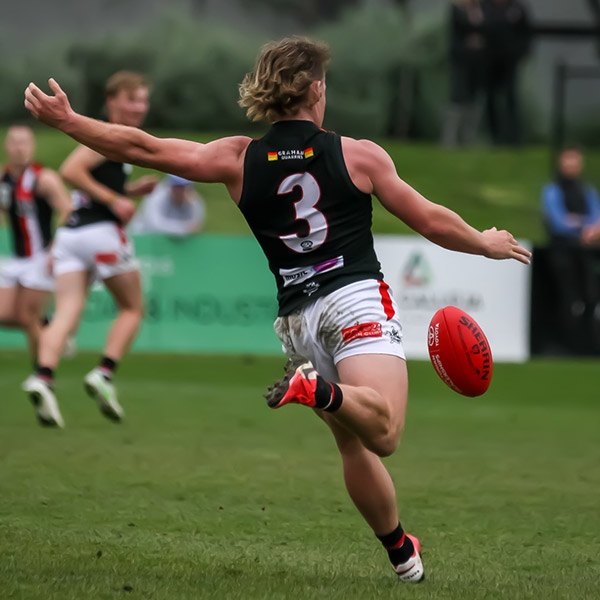 3. Nathan Scagliarini's back!
After not playing VFL since round one 2019, Frankston midfielder Nathan Scagliarini amassed 22 possessions and kicked two goals in his return against North last week. He played for local club Red Hill in round one and after blowing out the cobwebs in round two as a small forward, looked for him to potentially push into the midfield at stages in round three. He went up to the Northern Territory late last year to play in the NTFL and dominated for the Tiwi Bombers, getting 27 touches and five goals in one game. More than anything, it is great to see the club favourite back running around in Frankston colours, and in an officially recognised leadership position.
4. The new recruits are blossoming
Josh Begley kicked six goals as a power forward round one, his second quarter giving Frankston momentum. Lambert, Krakauer, O'Leary and Mentha, as mentioned, have been influential in the forward 50. Coach Danny Ryan was complimentary of ex-Roo Joel Crocker, Sandy graduate Joe Lloyd, Cal Jones and Taine Barlow in a young defence in round two. Connor Riley's a running machine who will give effort all game. Anthony Brolic is a clean-using, experienced VFL player. Billy MacKay is a big-bodied youngster who gives physicality in the contest. There are too many to mention, but early signs indicate Frankston's list management has been excellent, with a mix of exciting youth and seasoned bodies, and they have built a close-knit culture that allows maximum output from those players. It is visible on-field.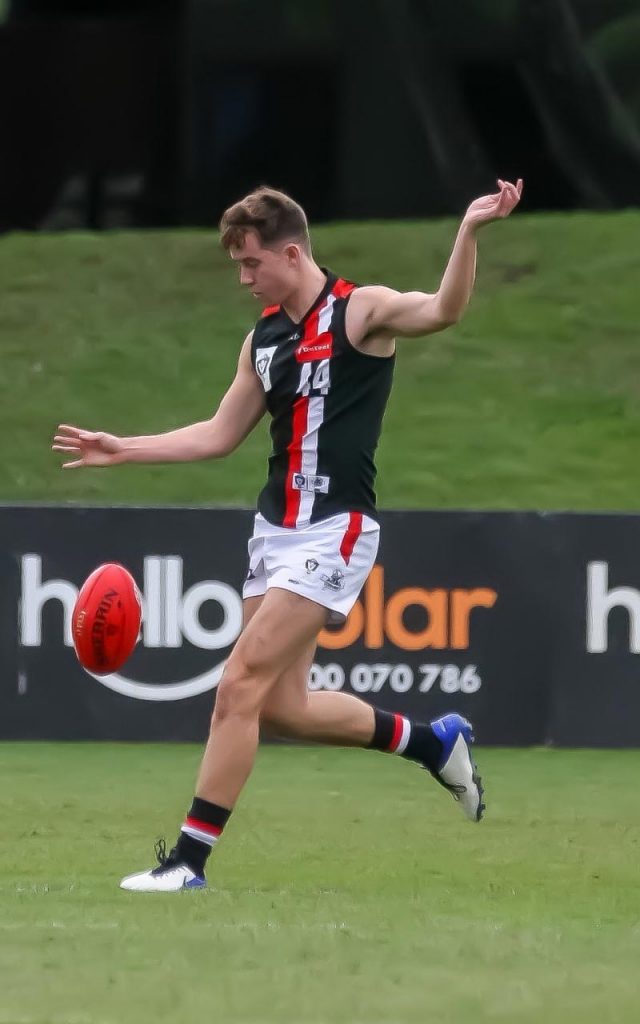 The star midfielder has accumulated 82 possessions across the first two rounds playing as an attacking midfielder, and he looks like he's loving it. He seems to pop up wherever the footy is and makes good decisions, his coach impressed by his ability to play as an inside and outside midfielder as well as across half-forward in round two. He was typically modest in an interview for RPP FM after the second win, but look for him to win plenty of the footy and continue his rich vein of form against Aspley.
6. The players love your support!
Post-round one, Frankston media spoke to 14 of the Dolphins' club debutants. The overarching theme was that the crowd made for a terrific match of footy to play in. Will Fordham turned to the hill at the final siren to express gratitude. Their appreciation was obvious when the players wandered over with the IGA Cup in hand to thank the fans, prior to singing the song. Sam Fletcher noted the 'electric atmosphere'. Kai Owens likened the crowd to a '19th player' on-field. Mentha and Riley said it was great to win for the community. Lloyd, Krakauer, Brolic and Crocker were others that made mention. It creates an exciting spectacle and doesn't go unnoticed by players. Be part of it!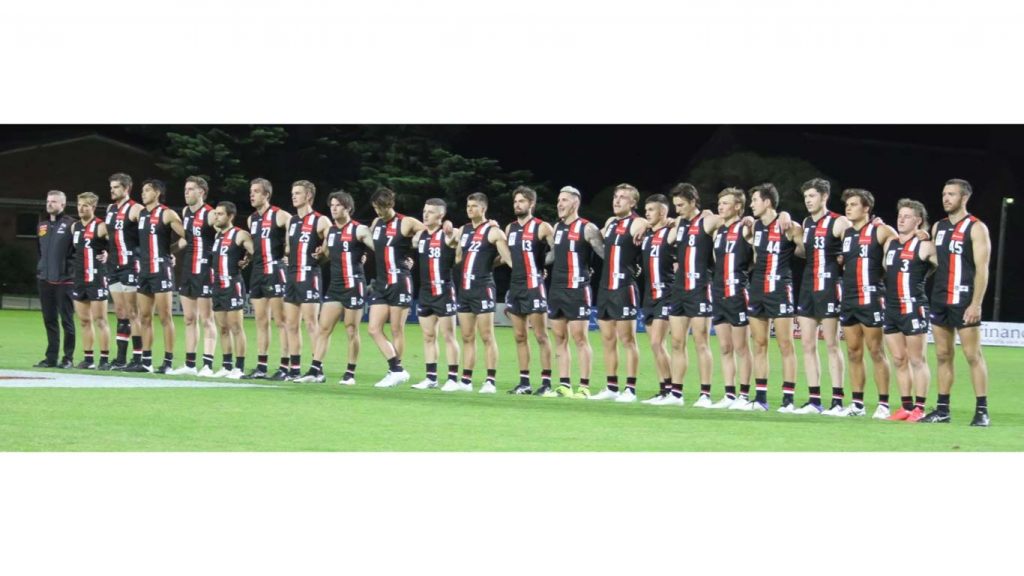 Frankston played their first night match at SkyBus Stadium in round one and it created what O'Neil said was a 'party atmosphere' in commentary. It is a great place to watch footy, and there was a noticeably increased number of younger audiences. It is a great place to spend a Saturday night and  be part of a great community event, regardless of the footy.
8. You can buy a membership and merchandise
Frankston reached their target of 1200 members ahead of round three. But given Frankston's fast start to the season, and attractive Dolphins football, now is a perfect time to sign up and show your support. You can buy your membership, which gives you a range of benefits. These include free access to Frankston home matches, half-price entry to away matches, MPNFL clashes at SkyBus Stadium, a $20 Harvey Norman Frankston voucher, a bumper sticker, membership card, lanyard and more! Alternatively, you can purchase your favourite piece of Frankston merchandise next to the hill at the ground to show your support for the Frankston Football Club!
9. Watch the Frankston Dolphins women
Is your Saturday night booked? Don't worry, you can still support the club by coming down to SkyBus Stadium to watch the women on Saturday morning from 10.30! It is their first home match, and Greg Hilton's side will be looking to back up last week's win at Mornington. Co-captains Lucy Grocock and Emily Archer and ANZAC Medallist for best-on-ground in round one Jas Rolland will all be in action so get down and get vocal!