The 2018 AFL Draft saw 78 players drafted to senior AFL lists. Five names read out were Dandenong Stingrays players but unfortunately Lachie McDonnell didn't make the cut.
'15 years of footy you've played in your life comes down to one day and once you don't get picked it's a tough day,' McDonnell reflects.
Despite the driving goal going unfulfilled, there was a positive to take away from the season for McDonnell, who was part of a premiership winning team with the Stingrays.
'Playing last year was playing with the same blokes you've been around for 4 years almost which was really good. You knew each other's strengths and weaknesses and what keys to each other's game were and how to better each other so it was good.'
In a series of diary entries published to the Leader at the end of last year, McDonnell outlined his week leading up to the draft. Especially striking was his last entry where he labelled being overlooked as a 'sledgehammer to the gut,' but is determined to 'take the path less traveled' to achieve his AFL dreams.
'Getting away straight after the draft with a few close mates and support from my family and friends helped….I got a few messages from (Collingwood midfielder) Adam Treloar and (Hawthorn defender) David Mirra saying it's not over if you work hard you'll get there.' McDonnell says, remaining optimistic by drawing inspiration from mature aged draftees, especially Mirra whom he shares a special bond with having both gone to Mazenod College.
'I was pretty consistent throughout the whole year… I sat down with the coaches after my under 17/s year and spoke about how I was a little bit fumbly, and just wasn't as clean with my disposal (as I'd like to be). Over preseason being really clean and once I was clean making sure my disposal was one of my biggest assets, was a real focus point.'
It paid off in spades for McDonell who a great ball user throughout last season for the Stingrays with AFL clubs noting his cleanliness in the lead up to the draft. He stood up for Dandenong whilst the Stingrays had players missing because of the under 18's championships. The high half forward/ wingman averaged sixteen disposals with his transition game viewed as a real strength, hardly surprising given his rich volleyball background.
McDonnell had never played the sport at any level until arriving at Mazenod College in year seven where teachers and coaches viewed him as a bright prospect in a P.E class, after which his volleyball took off.
'It was something I'd never heard of, then got to Mazenod. Once I got to Mazenod it really took off and was a sport I really loved and developed and was pretty good at.'
All up, McDonnell won six state titles and a national gold medal individually earned national MVP in year seven, as well as placing second with Mazenod last year in the national competition. To continue playing volleyball, McDonnell would have had to have moved across to America and accept college offers and despite an extensive skill-set, his foremost love was football, which took precedent.
'My vertical jump from volleyball has helped me with a lot of aspects of footy because. In volleyball the ball's back and forth so you've got to translate from offence to defence super quick and I think that's really helped- in footy if you turn it over you've got to transition from offence to defence as well so I think that aspect of my game has really developed.'
McDonnell's contested marking, attacking flare and kicking efficiency have been strengths he's been able to bring to the Dolphins, but he's had one simple goal since arriving at Frankston. To continue playing consistent footy. This niche saw him make his debut off the back after a solid preseason.
'Playing a lot of the pre-season, I was getting used to the bigger bodies, and then keeping up all the assets that I had, and getting better at the deficiencies.'
Line coach Chris Gamble identifies his contested ball work and running patterns as an area McDonnell is actively looking to improve but he is equally complimentary of his kicking efficiency in open spaces.
So far this season he has debuted as 23rd man against Essendon, gathering sixteen disposals in a respectable round one performance but has been unable to crack into the senior side since round 3 despite some strong form for local side Noble Park. This led to selection in the young guns game recently, a match which recognises the talent of footballers unable to string consistent games together at senior level.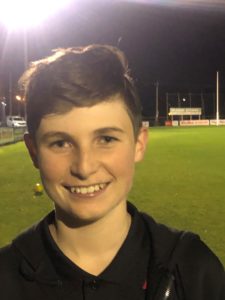 Jonty Ralphsmith
Dolphins Digital Media Team