'Weird but awesome.'
That's how new dad Dylan Gordon describes parenthood.
With son Marley still only four weeks old, Gordon has already surprised himself- and wife Anna- already with his increase in maturity.
It's been equally the journey of nappy-changes, fatigue and cleaning up as the small milestones and day-to-day moments that's brought the 24-year-old great satisfaction.
"Before Anna gave birth, I would see newborns and shy away from trying to hold them because they're so fragile but with Marley I pick him up, I don't have any issues," Gordon said.
"I was pretty scared to hold him the first day we got him, but as soon as I got him, I didn't want to put him down so that was something that was very surprising.
"Going into being a dad beforehand I actually said to my missus 'I'm never gonna change his nappy'," Gordon recalls.
"But I've changed his nappy heaps of times now, I've wiped up his vomit off my shoulder or off him and it hasn't bothered me.
"It's got to a point where I jump straight in my car from work or from training and I go straight home. I just want to hang out with him and hold him and also give Anna a rest.
There's only one thing Gordon dislikes: "I hate seeing him cry; I take it personally, like I've let him down," the Frankston defender said candidly.
Given the impending birth, the isolation period was stressful and bare, even still, with only close family members, friends, and the Frankston Football club guernsey able to greet the newest Gordon.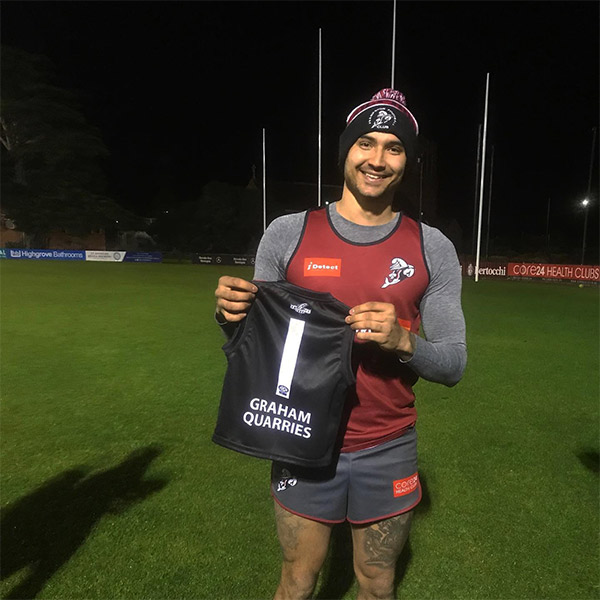 Gordon also spoke honestly about raising Marley as an Indigenous Australian and hopes to show his son the positives his proud culture.
"Cultural wise, growing up in Darwin was pretty cruisy so I hope one day myself and Anna can go back up there and take Marley for a couple of years and show him all the things that I did: going fishing, shooting, going out bush and camping.
"Anna's been great. When I first met her, she had never met an Aboriginal person before me, so… she's learnt a lot of stuff and (as a child-care worker) goes to her workplace and teaches them about the Indigenous culture"
-By Jonty Ralphsmith