When Frankston forward Bailey Lambert went to bed at his Ashwood home on Saturday night after a four-goal haul in the win against Aspley, he was still buzzing.
So he picked up his phone and buzzed his captain.
"I messaged Josh Newman after the game last night because I couldn't sleep, to say "I've never had more fun playing football in my entire life" and I messaged Will Fordham as well to say 'thankyou' for building the culture," Lambert said buoyantly.
"They've made it so you're not playing footy with 20 other footballers, you're playing with 20 of your best mates.
"I can't really say what it's like, it's unbelievable."
Lambert, among Frankston's best performers in the first three weeks as a clean pressure forward, is the exuberant personality that every football club needs.
He's the talkative larrikin that Nathan Freeman aptly described as a "ball of energy" on SEN last week.
He'll ask photographer Matt Walker whether his boisterous goal celebrations have been shot.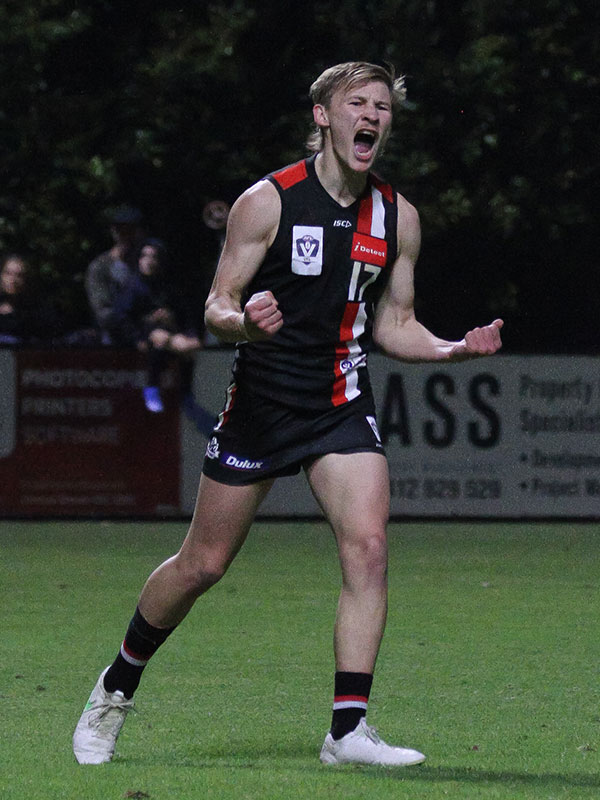 And, as well as three wins, he has had plenty to celebrate individually in the first three weeks having kicked 11 goals.
Playing as a dangerous hybrid forward, he gets the Sherrin onto his boot quickly to pounce on the ground-ball and his aerial capabilities give him plenty of opportunities to showcase his unrushed set shot routine.
His exuberance also shines through when he gets higher up the field, with his youthful, in-your-face persona fitting in perfectly with Frankston's aggression.
But equally, his text message shows he is the well-mannered clubman grateful to be enjoying his footy.
The person that takes time to speak to everyone around the Frankston Football Club – players, staff, volunteers.
The ferocious pressure player that gets joy from setting teammates up – epitomising the identity Frankston's small forwards are trying to create.
"The boys up there try to push each other into it because it might not be your day, but you're trying to make your moment defensively because if you're on the whole time and pressuring the other team, eventually they will crack."
"We wanted to be known as a forward line where it's hard to get the ball out cleanly because if you get sloppy exits, it's gonna come back in a lot more often."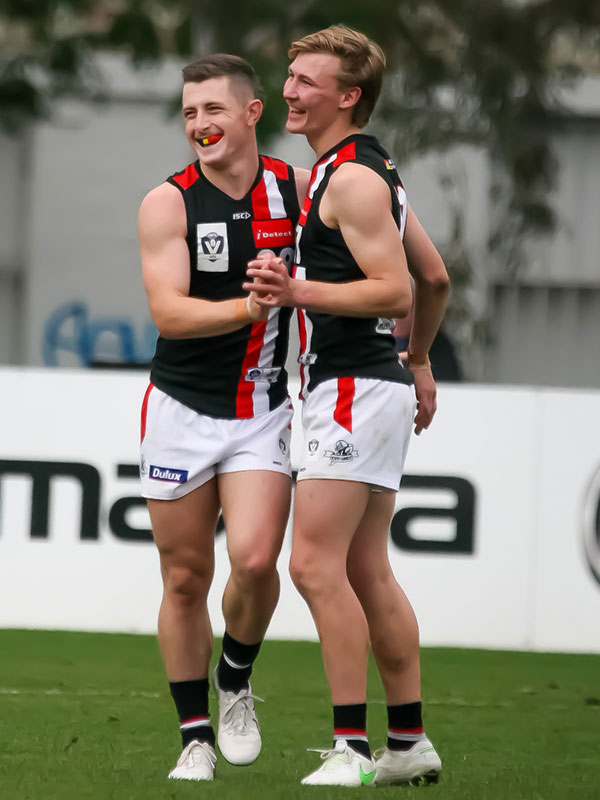 In round one he got the Domino's Defensive Player of the Week for his tackling and pressure on opposition ball-carriers inside 50.
It shows his pride for the jumper.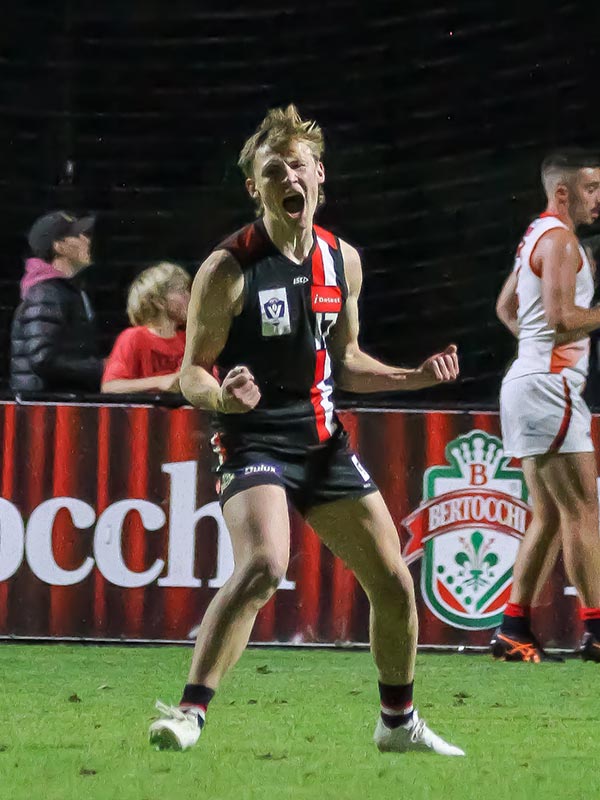 Given his consistency so far, and the fact he came in with far younger recruits, it's easy to forget Lambert has only played six VFL games. "I feel like the environment the boys have made makes you feel confident in yourself because they want you to play to what you're good at. "I see myself as a pretty good mark and I try to use my footy smarts as much as I can." One game teammates won't forget, though, is his best afield debut for Richmond VFL against Frankston. The larrikin of Lambert comes out when he says: "I don't mind letting them know because I played pretty well and I know they were annoyed on the day." But truly, his text message to his skipper shows his gratitude for the leaders. And typically when interviewed, he'll always speak about the team, and then some more before giving an account of his individual performance. When he does speak about himself, Lambert modestly rolls out the cliches: "I got pretty lucky in the last couple of weeks to get on the end of some cheap goals but the coaches always say the harder you work, the luckier you'll get," he said. Coaches ask for buy-in, and Lambert is getting just reward. By Jonty Ralphsmith