Hear from Danny Ryan and the Frankston line coaches ahead of the Dolphins' first match on Friday night at SkyBus Stadium against Coburg.
Danny Ryan sees no limit to how far Frankston can rise in 2021.
The common theme when new recruits speak in preseason is that Ryan's vision was a major selling point.
That is a vision of long-term success that is entertaining to play and watch, underpinned by an evolving successful program with ever-improving connectivity.
"I have the vision for this football club to play finals football and go as far as they can go," Ryan said.
"That might take three years, it might take ten years, it might not be me that's steering the ship, but I'll set the foundations."
"There's no point coming back into the competition if we're not going to be bigger and better than what we were before.
"Frankston is at the bottom of the ladder for the VFL competition, we are in a brutally tough competition, we are under-resourced, undervalued, we are a victim of our own perception and truth over the last ten years, but the journey is to turn that around and strive for something bigger and better.
"Frankston Football Club is a just cause and a cause that's worth fighting for and I think people externally are now starting to see a little bit of that.
"For these guys, they've got the capability and the talent, they should and will be playing finals football and will be getting the fruits of their labour, they've just got to stay the path."
Ahead of 2020, Frankston recruited with an eye on changing the perception long term with most recruits being raw NAB League prospects.
They have pleasantly had an extra year of development and some will be exposed at the top level.
Pleasingly, there was greater list stability entering 2021, complemented by mature-aged – and ex-AFL listed – recruits including Brett O'Hanlon, Anthony Brolic, Sam Fletcher, Joel Crocker, Ben Jacobs, and Josh Begley – a conscious list management decision.
"In 2020 we basically went with a youth focus with ten Dragons and one Stingray and a couple of Gippy (Gippsland Power) boys that have come in, whereas this year it's been more the mature bodies that have come in.
"We recognised that we had talent and youth already so for us to take that step on delivering to be hard to play against, we need a bit of extra steel on the physical side and mental maturity and composure."
Entering his third season as senior coach, Ryan is confident the program's success will show through improved results if the Dolphins stick to the process.
"I think strong leadership is about servitude to people that are part of that cause.
"It's their footy careers, they are the ones who play and get to sing the song and are creating lasting memories amongst themselves and if I get to play a little role in stewarding them through it, I know that's a good thing to do."
"The process is to play Dolphins football, focussing on our three phases: contest method, how we go about winning the ball and using the ball, and how we defend and get the ball back if we didn't win it or lost it in our own attack.
"That's underpinned by the traits we play to and look for in our teammates.
"It's about every player having real clarity what their role is and what their strengths are and what their best looks like."
What is the 'Frankston brand':
A relentless attack on the ball or the man, the ability to be brave with the ball in hand and play exciting football to take the game on, selfless running from teammates to open up the skinny ground. We don't want to be a boring long down the line team, that's not the way we want to play, we want to have our players express their talent, the system is set up to allow them to do that. It also means we have to be resolute and organised in our defense because the game is about momentum, we're not always going to have it, when the opposition has it, we have to deliver on being hard to play against. That means how we use the ball makes it harder for them to defend us, when they have the ball we have to defend well to make it hard for them to score.
Frankston have an army of small forwards to put pressure on at the feet of Kai Owens and Tylar Young. Young has added considerable muscle since a couple of late-season matches in 2019 giving the forward line a focal point, his cleanliness and marking belying his late introduction to the game. Owens has taken a leadership role in the forward line according to forwards coach Chris Gamble while Brodie McLaughlin is a hard worker currently battling a back injury who Ryan sees featuring in 2021 and beyond. Blake O'Leary, Begley, Josh Stern, Ash Krakauer, Bailey Lambert, Jack Mentha, and Khyal Jacobson are the small-forward brigade that will aim to apply pressure and hem opposition sides inside Frankston's forward-50. It is a different-looking attack to two years ago, but Frankston's desire to move the ball quickly and the goal nous of the forwards could make for exciting viewing.
A word with line coach Chris Gamble:
"We want to be competitive; we've got a strong defensive focus of laying a lot of inside 50 tackles and creating rescores from stoppage by locking the ball in. Too many inside 50s come out so we're trying to work on that and that comes with pressure. It's so much easier to score when you turn the ball over in your front half rather than having to work it off halfback.
"We've got a good mix; Begs (Begley) coming off Essendon's list as an AFL player brings a lot of experience, then you've got the poise and smarts of Ash Krakauer coming from Port Melbourne and he's clever and selfless which is good because Lambert and Mentha are a bit more in your face, younger in the way they play the ball. McLaughlin, Young, and Owens are close off the field as well, which helps."
Player in focus: Tylar Young:
"Tylar Young's coming on in leaps and bounds as the key forward; he played a couple of games in 2019 as a key back, he's a completely different player now. Him coming on has given the small forwards a lot of belief that there's going to be more opportunities up there because if he doesn't mark it, he'll bring it to ground. [In the past] we were relying on the resting ruckman to go and play deep forward so their craft wasn't as good whereas Tylar has worked tirelessly, he's always coming up to Lachie Oakley and I, and asking for assistance so he's improved out of sight."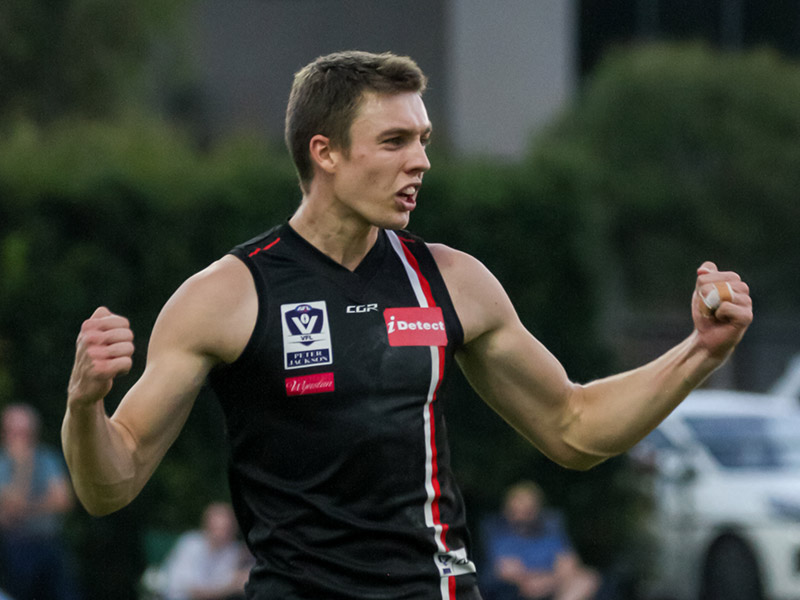 The nucleus of the midfield has remained similar from 2019, with Josh Newman, Will Fordham, Nathan Freeman to feature prominently in 2021. The strengthened Nathan Scagliarini's addition to the leadership group is a nod to discipline he will add on the inside, having played just one VFL match since 2018. Frankston has added experienced VFL player Anthony Brolic, ex-Gold Coast Sun Sam Fletcher, and young mature-bodied Billy MacKay to their on-ball brigade, who will rove seasoned VFL ruckman Jack Berry, WAFL recruit Jeremy Goddard or James Rendell. The addition of efficient ball-users and experience in the contest allows for quick ball movement which provides more scoring opportunities. On the outside, running machine Connor Riley was added ahead of 2020 and Frankston have retained Alfie Jarnestrom and Mitch Cox.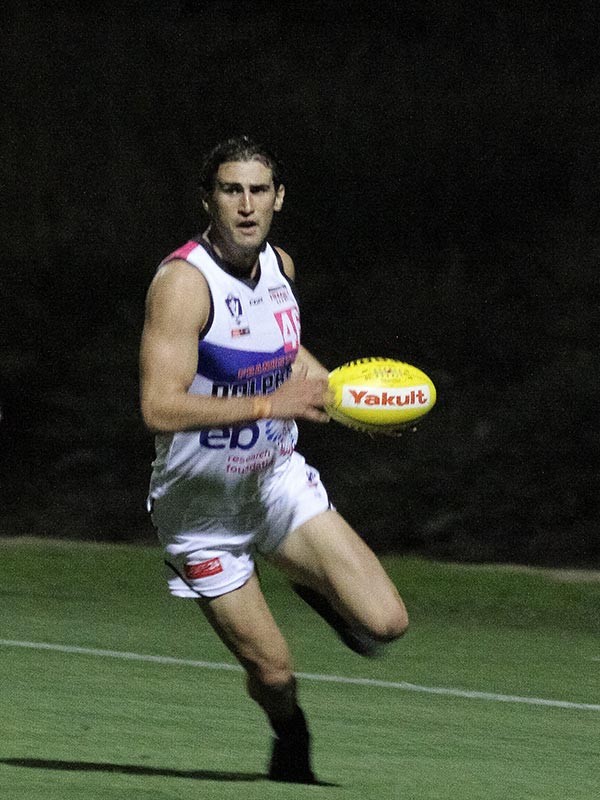 A word with line coach Andy Shannon:
"We're very happy with the way we're shaping up with the fact we feel like we've added 3-4 a-graders to that mix which we see already is having benefits to our side as evident in the four practice matches where we've come out on top in clearances. Having a couple of ruckmen who have height and experience helps those midfielders get access to the ball. It allows our midfielders to get first hands on the ball and they can set up to clear the ball away from the contest. [Winning clearances] allows us to have more forward entries which equate to more shots on goal.
Player in focus: Connor Riley:
"I've been impressed with the work-rate of Connor Riley. Uses his physical attributes in the right areas where he's able to create attacking options for us on the wing and he's also able to shut down their outside midfielders quite well. He's very good at the contest and he closes and presses up quickly on the opposition which causes turnover. His fitness allows him to create long contests which allow our midfielders to be part of the action."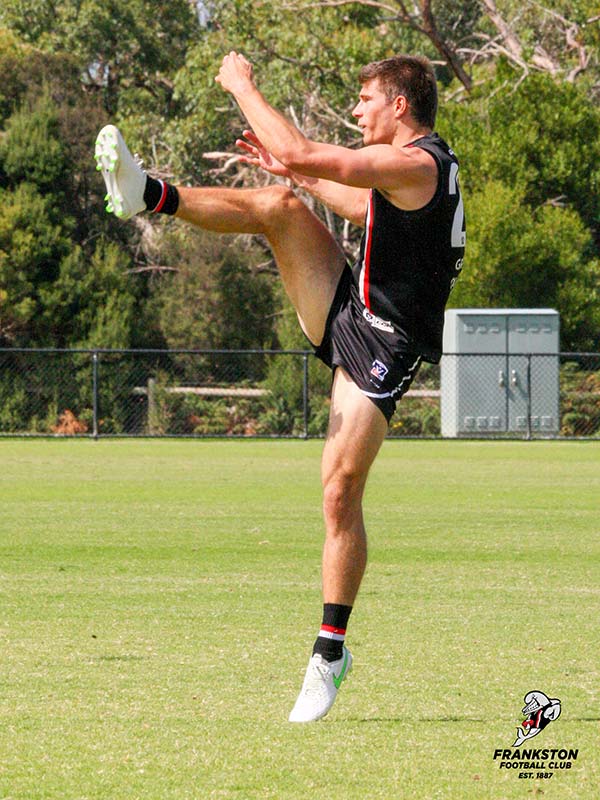 Three wins in 2018-19 as Frankston re-established themselves in the VFL put great pressure on the young Frankston defense. The improvement from 2018-2019 was demonstrated by an improvement of almost 11 in percentage. As Frankston continues to build towards long-term success, they have added exciting young recruits as well as ex-AFL listed Brett O'Hanlon. Taine Barlow has impressed in the practice matches, Billy McCormack is a young key-position player with great potential who can play at both ends of the field, and Harry Loughnan and Joe Lloyd have had 2020 to put on size after coming out of the NAB League. The midfield strengthening is a two-fold benefit for the backline; it decreases the speed and frequency of opposition's forward 50 entries and gives coach Danny Ryan the flexibility to play creative ball-users such as Anthony Brolic and Josh Newman off halfback.
A word with line coach Rikki Johnston:
"We want to be a little bit more attacking [in defense]. We want to take the game on a bit more. It's been hard to do where you're conceding lots of inside 50s and you're under pressure quite a bit, it's easy to worry about your own patch a little bit more rather than playing with flair and getting off to help, but I've really tried to instill in the boys that we want to play a really daring style of footy. We want to use the ball through the middle and take those kicks, get off to help, and play with a bit more freedom."
Player in focus: Brett O'Hanlon:
"He's a really smart user of the footy, a neat left-footer. Having a left-footer in general in the backline is an advantage and his ball use and poise have been great. It's taken him a little bit to come out of his shell but the knowledge he has to impart on to his teammates is fantastic."
By Jonty Ralphsmith