Rotations were at a maximum, and crowds at an eerie minimum in Frankston's first high-intensity pre-season practice match.
With spectators locked out due to coronavirus fears, the Dolphins' experienced heads dissolved the rust for a half, while their slew of NAB League graduates were eased into senior footy.
This lack of consistency is what Josh Newman believes led to the Dolphins 6.9 (45) to 6.4 (40) loss to the Northern Blues at Ikon Park on Thursday night.
The skipper admits his side "went for it" in the dying stages but would not be drawn into believing similar errors at the death from 2019 were bleeding into this season.
"We didn't really care about the result; it was more about the process of what we gained from the experience,' Newman said post-match.
"The main learning which comes out of [the game] was understanding when to attack and when we need to control the footy and play the game on our terms.
"Because we are such a young exciting team everyone gets on their bike and wants to attack and attack and once we made that error the ball got sent back over our heads too quickly. Our defence wasn't set up and our midfield couldn't support.
"I think we just need experience, and we've got a talented, eager-to-learn young group so I think you'll see we'll learn quite quickly and things will fall into place earlier."
The Dolphins overcame their fumbly start to hit the lead in the third quarter, before being overpowered late.
Young leader Max Williams was a pillar in a tight Frankston defence, setting the platform for a strong season.
"I think Max Williams is in career-best form and has got himself in a great state so will be a great asset this year," Newman quipped.
'He's going be awesome for us. Max Williams and Liam Hiscock are great mates off the field; Max is really good in the air and Hiscock has got great bodywork so they complement each other well."
Werribee recruit Jack Berry impacted the scoreboard twice, ably sharing ruck responsibilities with James Rendell, while former Southport livewire Jack Mentha was handy as a high half forward and on the ball.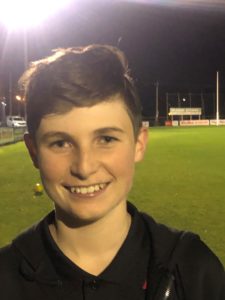 Article by Jonty Ralphsmith
DOLPHINS DIGITAL MEDIA