You'd be forgiven for thinking the interchange bench is the calm in the eye of the storm on a footy field. The truth is, it's a thoroughfare for messages which come thick and fast. Short and sharp from the senior coach on the boundary line.
Gone are the days where coaches coaching on the boundary line create angst among players. Perhaps once they would avoid coming to the bench to avoid an almighty spray. Frankston coach Danny Ryan is far more positive and warmer. It doesn't stop the coaching brigade from scrutinising each play- commending or condemning- but it is far less negative.
By coaching on the bench, Ryan entrusted his assistant coaches to give him valuable insights from the box. The communication is constant, while players also offer subtle insights.
Senior players especially, are frequently consulted. Their observations are critical, to get a 1% jump on the opponent.
While Ryan and co. are deciphering the tactics, head of high-performance Chris Ross looks after the rotations.
Rotations are where communication is vital. Not all rotations on and off the bench are like-for-like. A half forward may replace a midfielder. This player may then be relied upon to relay a message about positional changes to cater for rotations to flow.
Some players know when it's their time to come off, while others who are in the zone are far harder to collaborate with. Gus Styles is a good example of this.
A heart wrenching moment appeared to sour the 2nd quarter when Nathan Freeman hobbled from the ground requiring attention to his hamstring. He would take no further part but assured everyone it wasn't his 'bad hamstring' which riddled his AFL career and was just precautionary.
It paved the way for a terrific piece of teamsmanship and camaraderie. Each player who came off checked up on their injured team-mate. Freeman showed his character by staying mentally involved, extending his observations to the midfield group.
Most players stay active and effervescent on the bench. Some are constructive, others encouraging, some stay in the zone and some relax a little.
Josh Newman all in, encouraging persona shines through; 'come on boys, a new wave of energy,' he repeats, realising the importance of a consistent, 4 quarter performance.
Aloysio Ferreira-Neto is the most robust. Staying on his feet, he screams instructions. Unfortunately, most of the time his team-mates can't hear him. He could run on batteries that boy.
The final quarter was gear one for intensity. With hardly anything separating the two teams, every player was eager to get on the ground and show their wears.
Unfortunately a five minute scrimmage on the far side of the ground prevented rotations and halted proceedings. With the match depending on it, the coaching staff had to rely on the runner to transmit the plans.
Frankston gave themselves late opportunities, but were unable to convert. A 6 point loss ensued. Coburg deserved absolute credit for the win, according to Ryan. The players were gutted. Inconsolable, as they repeated the 'what if' moments in their head. Unfortunately VFL is brutal and unforgiving and we must move onto next week. It presents another opportunity. We just need to grasp it when it comes.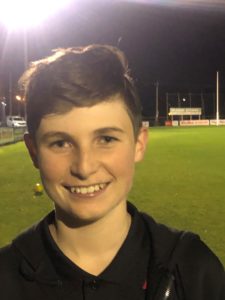 Article by Jonty Ralphsmith
Dolphins Digital Media Team