Josh Newman, the Dolphins current VFL captain is flourishing in his role individually and says it's a matter of the players finding on field cohesion before the results start showing on field.
'I was really aiming to work as hard as I possibly could to get the best out of myself. That reflected within the playing group and it was quite humbling to be voted in by the playing group (as captain).'
A great clubman, Newman has not changed anything about himself, given he was voted in for how he conducted himself before being made skipper. He says what needs to be said, since he is an experienced campaigner in a young side, but prefers leading by example.
'I would have (acted similarly) no matter what, whether I was captain or not, that's just the way I behave around the football club.'
Josh, the younger brother of Carlton and former Sydney Swans player Nic, names playing an under 18's grand final with his brother as a highlight of his career.
'We're really close,' says Josh who considers himself lucky to have played Mornington under 18s, Dandenong Stingrays and at Frankston with Nic before Nic was drafted to the Swans.
Their bond is perhaps best displayed by the ecstasy Josh felt for Nic when he found out that his brother had been drafted as a mature aged pick to the Swans at the end of 2014.
'To me, him getting drafted was a huge relief off my shoulders and the whole family's because he'd made it.'
(Nic Played 31 games for the Swans between 2015-2018 before being traded to Carlton at the end of last year. He is now a regular for the Blues and assists at training with Frankston when time permits.)
While Nic had put all his energy into a footy career, Josh had other goals and enjoyments outside the game.
He received lukewarm interest from clubs in his TAC Cup year, and then more interest at the end of 2017 but he didn't feel overwhelming disappointment at being overlooked. That's not to say he didn't care about football, rather he had other interests and ambitions, such as surfing, and teaching. The biggest challenge was in fact finding the right balance to supplement positive results.
'In my early days in Frankston, I had the balance the wrong way, I was more focused on the other things in my life and I was just doing the bare minimum to get by and still get a game.'
With the Dolphins going into recession for 2017, Josh then moved clubs to Williamstown. At Williamstown, despite playing consistent footy, and adding a more defensive component to his game, he felt too consumed by footy and couldn't escape it.
'I was putting too much pressure on myself to be a professional athlete when I wasn't. It was my first year as a full-time teacher and I was trying to do a little too much.'
So, after thorough thought, he decided it would be best if he went with a few mates on a year long surfing holiday around South America to escape the rigours of everyday life.
After a year in third world countries, Newman had things put into perspective when he returned and felt he had discovered himself as a person.
Josh has come back and found the right balance between life, work and footy which has translated into him being voted in as captain off the back of his best preseason yet.
'I've found a way to do all the things necessary to be as much of a professional on my football side of things as I can and also find time when I need to switch off from footy.'
Being back at Frankston makes it a lot easier for Josh to switch off, as it's closer to the surf, but returning was a decision he carefully considered.
'It's a special place, special group of people that we always had down here and we always cared a lot about each other and that's the reasons why I came back. I didn't want to invest my time and effort into helping get the program back up and running if we didn't have the right people in the right places to move forward in the long run so that's the main reason I came back; because it's home for me and I cans see that it's moving in the right direction.'
With Newman back at the Dolphins after a year of reflection, it's the perfect recipe for him to deliver his best football in 2019.
'I don't want to put too much of a ceiling on (what I can achieve) because I'm tapping into things I've never tapped into purely on the fact that I just want to see how far I can take my footy,'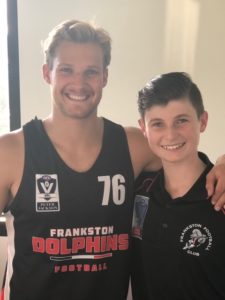 Article by Jonty Ralphsmith
Dolphins Digital Media Team