Game day information: Round 2 vs Williamstown. Sunday April 14th, 2.00pm start @ SkyBus Stadium
Construction of new interchange benches
More exciting developments at SkyBus Stadium with the construction of the new interchange benches commencing this week. The state of the art benches will be located on centre wing and are scheduled to be completed in advance of our round 6 home games vs Richmond. For this week's game, temporary fencing will be in place around the construction zone.
Membership and Merchandise

Pop in and see the lovely Sarah at the membership and merchandise stand on Sunday outside the Pod Bar. The Dolphins winter puffer jackets and vests are proving a huge hit this year and will keep you warm in the coldest weather.
A new incentive for all current Dolphins members commencing this Sunday – every new member you sign up, you will receive a free $20 merchandise voucher. Membership and application forms will be available at the game and you can claim your voucher immediately. Sign up four friends, use the vouchers and a puffer jacket will only set you back $5.00.
Selected teams:
Shem Tatupu has been selected to make his Dolphins debut this week wearing the number 18 jumper and has been named at Full Forward. At 196cm and 118kg, the former Hawthorn rookie is sure to be a crowd favourite. Also debuting as the 23rd player is Ali Zijai, brother of Yilber, out of the 2017 Dandenong Stingrays and Noble Park FC. Another potential debutant is the pocket rocket out of Traralgon, Kody Wilson. We'll have to wait for final teams on Sunday to see if Kody graces the turf.
Unfortunately, Nathan Scagliarini suffered shoulder and finger injuries in last week's game vs Essendon and will require surgery on both in the coming weeks. This is likely to see Scags sidelined for the rest of the season.
For full teams, see below:
FRANKSTON v. WILLIAMSTOWN
Round 2 – 14/04/2019
2:00pm
SkyBus Stadium – Frankston
FRANKSTON
B: 1. D. Gordon, 25. M. Williams, 10. T. Grace
HB: 2. J. Newman, 14. L. Hiscock, 6. L. Williams
C: 9. N. Freeman, 5. W. Fordham, 13. A. Styles
HF: 22. G. Lok, 30. J. Miller, 3. C. Rich
F: 35. R. D'Arcy, 18. S. Tatupu, 34. J. McMahon
R: 23. S. Alabakis , 8. A. Ferreira, 11. B. Mullane
Int: 12. B. Bailey, 29. N. Fahey, 17. A. Harnett, 15. A. Jarnestrom, 19. C. Larkin, 24. M. McCarthy, 37. L. McDonnell, 32. K. Wilson
23P: 41. A. Zijai
In: K. Wilson, T. Grace, S. Tatupu, A. Zijai, C. Larkin
Out: J. Woodman, N. Scagliarini
WILLIAMSTOWN
B: 23. S. McLarty, 21. J. Tippett, 4. B. Myers
HB: 17. J. Charleston, 5. B. Monk, 18. J. Greiser
C: 3. S. Dunell, 9. A. Marcon, 7. M. Hibberd
HF: 6. S. Martyn, 26. J. Thorpe, 22. J. Pickess
F: 2. B. Kennedy , 16. N. Rodda, 34. J. Ottavi
R: 49. N. Meese, 1. J. Pongracic, 8. N. Mellington
Int: 28. C. Buykx-Smith, 25. L. Hunt, 10. L. Masters, 20. M. Norton, 32. N. Sing, 31. C. Stephens, 24. W. Wheeler
23P: 42. K. Dawson
In: M. Norton, S. McLarty, C. Stephens, C. Buykx-Smith, N. Sing
Out: T. Schnerring, N. Buykx
2019 VFL Season Guide

A reminder to all supporters that there will be no weekly Football Records at VFL games this year. It is recommended that you download the VFL App, which will give you live scores from all games and live Champion Data stats during the game so you can follow all the action.
The 2019 VFL Season Guide is on sale at the club for $5 and will be available for purchase at the gate on Sunday. It contains the season fixture, media guides and team list for every VFL club and can become your companion for all games this year.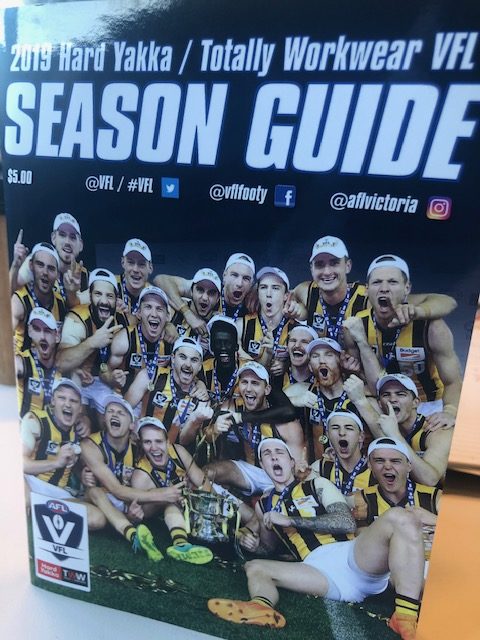 Isuzu Ute footballs
The Frankston players will be kicking the Mornington Isuzu Ute mini-footballs into the crowd before the game on the weekend, so be on the lookout for your chance to kick the ball into the back of the Isuzu ute at half-time with Peter van Breda ready to take the big mark.
Looking forward to seeing everyone at the game on Sunday.
Go Dolphins!
Mick O'Neil
Chief Executive Officer