Corey Rich, an integral part of Frankston's forward line and the high standard setter believes his junior career was riddled with inconsistency. Injuries to his back and ankles stifled his progress from a football perspective, while utterly deflating him off the field – not that he'll use it as an excuse. But from the agony of his injury prone junior career, he gained a positive attitude which has since held him in good stead. He vividly remembers a phrase his father told him in his adolescence.
'He said footy can't define you as a person, I vividly remember him saying that as I was going in for an operation, almost in tears…. Footy was the be all and end all but when you realise that there's more to life than footy, it keeps you a lot more level headed and grounded.'
It's a statement which has clearly stuck with the 21 Year old who loves keeping himself busy and has done so in a variety of ways.
'I always enjoyed school. School for me, you sort of got out of it what you put in and you got the rewards you deserved. There's a direct correlation between the time and effort you put in to school and what results you get.'
A self-confessed micromanager, Rich is also dipping his toes in the entrepreneurial waters.
'I always liked the idea of owning property, restaurants and bars; it'd be challenging and there's a huge element of risk in anything entrepreneurial but it's quite exciting at the same time.' The Dolphins leader aspires to live the life of entrepreneur John Ahern whom he sees as a role model, a far fetch from the usual idols of potential future draftees; further evidence that footy doesn't define him as a person.
And although he has long had the aspiration of playing at the pre-eminent level, Rich came to the Dolphins off the back of three seasons punctuated by inconsistent footy at both Sandringham Dragons and Sandringham VFL.
'I played some disappointing footy there at times, was lucky to keep my spot, especially throughout my 18's year, made up the numbers, was a bit of a battler and then came out of TAC Cup, finished school, went to Sandy (VFL) for a couple of years… again played some inconsistent footy at times and it can be tricky to get a game.'
'I came to the ultimatum at the end of 2017 that if I'm making the effort to train three times a week, I might as well make sure that I'm playing regular senior footy and with Frankston coming back into the competition, it just seemed like the best option.'
His most consistent season of footy what followed, with Rich marvelling at the opportunity to get continuity in the senior side. Playing as a potent mid-size forward with damaging bursts on the ball, he won selection in the VFL team of the year off the back of leading Frankston's goal kicking.
Endurance running and football IQ have long been strengths of Rich, but crucially, last year's exposure at a higher level improved his kicking efficiency and sprint efforts, elevating his game into the elite ledger of VFL football.
This led many draft experts to believe he was among the most likely VFL footballers to be selected as a mature aged draftee. His credentials were further emphasised after a best on ground performance in a Young Guns game where he kicked six goals, with the opposition coaches' box only able to watch and marvel at his skill execution.
'I played some inconsistent football; my good was good but my bad went missing in some games. If I can close that gap, I think I'll go a lot closer (to being drafted).'
He dealt well with the inevitable disappointment of not being drafted, coming back on day 1 of preseason and hasn't put a foot wrong, with team-mate Goy Lok labelling him the standout of pre-season. Consistent, optimal level performances is the aim for the season. Rich was re-appointed as a vice-captain again in 2019, an impressive feat for any 21-year-old, not least one with just one full VFL season under his belt.
'I try to lead by example, I'd like to think of myself as a reasonably hard trainer… I've just got to get my own backyard in order and hope to drive some others along with me.'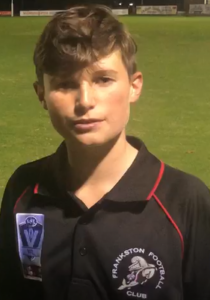 Jonty Ralphsmith
Dolphins Digital Media Team