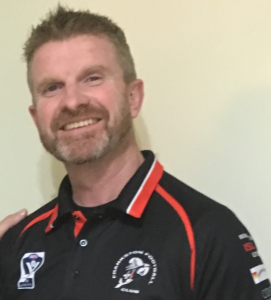 This appointment is the culmination of a robust recruitment process that yielded a high-quality field of candidates. His signing is another clear goal in establishing ourselves as the 'hub of Peninsula football' as we provide every footballer and football lovers on the Peninsula with a VFL team that they can call their own.
The Frankston Football Club is delighted to announce that Danny Ryan has been appointed as Senior Coach for the 2019 and 2020 Seasons.
Danny brings an extensive football background to this role, including coaching experience in multiple state league competitions, TAC Cup and AFL. Many would be aware that he was the Senior Assistant of our club in 2018, with responsibility for the midfield group. In 2017 he was the Senior Assistant Coach at Casey Demons in the VFL; Opposition Coach for the Port Adelaide Power between 2013-14; Asst Coach at Sandringham Dragons in 2015-16 and prior to that a full time Development Coach at St.Kilda between 2009-2012. Danny started his coaching journey with Pennant Hills Demons in the Sydney AFL, before working with the NSW-ACT U18 'Rams' and then returning to Victoria to join the Saints.
A passionate coach with enormous work ethic, Danny has been seeking an opportunity to coach his own team in the VFL and is fully supportive of our aim to develop local talent and involve ourselves in community football. With our next coach in place, we now look forward to the next few months as we start the process of putting together our list for 2019 and to continue our journey to building a strong and competitive team and club to compete in the VFL competition.
Danny is married to wife Mandy and proud father of three children Liam age 20, Ella 17 and Max 14. Originally with a background in graphic design & marketing, he is now a consultant, working in the Organisational Leadership space.
Dolphins Pre-season training will commence on Monday November 12th.
"I am extremely excited to be appointed as Senior Coach of the Frankston FC and fully understand the challenge as we continue our journey towards building a great club, people and players involved in the VFL competition. Our aim is to create a sustainable elite football environment where players can challenge & develop themselves at VFL level and as a group work to become a great football club both on and off field. Personally, the opportunity to coach in my own right and lead the on-field direction of such a proud club is an honour and I appreciate the opportunity granted to me. Now to roll up the sleeves and get started on the hard work in front of us."
– Danny Ryan (Frankston FC Senior Coach)
As the General Manager of the Frankston Football Club I am looking forward to working with Danny in the next phase of the Frankston Football Clubs journey in 2019 and 2020. Danny will bring a tremendous football coaching & development background to the club and the team as we continue to build this club into the future. There is plenty of hard work ahead of everyone involved at the club as we piece together the rest of the team on and off-field. Obviously, Danny's appointment as our Senior Coach is really the important appointment for us and now we can start to place the rest of the pieces in place to complete our requirements.
– Gary Buckenara – General Manager of the Frankston Football Club
Stay tuned to Dolphins website for all the news on player signings and other football updates……. go to www.frankstonfc.com.au