At the age of 18, Jimmy Miller was touted as a potential draft smokey despite playing just one game of Colts football (Western Australia's premiere u/18 competition). But by his own admission, no matter how good his skills were, his country roots wouldn't have mentally prepared him for the rigours of the AFL.
'I was a little bit stupid when I was 18. I was interested but wasn't really focussed on going to a high level- I'm more laid back than I should be so that's why I didn't get drafted'
He admits that relaxed persona cost him a shot at being drafted but holds no regrets about his youth. He enjoyed the camaraderie and amusement that rural Exmouth offered him.
After u/18s, he gave up the chance to play WAFL opting to instead play amateur footy for a year, before giving the game away and travelling, which brought him to Victoria, and eventually the Navy.
He has now been at HMAS Cerberus for fourteen months working as a submarine technician. He is loving his work as much as ever and it has given him the essential mental capacity to realistically chase his footy dreams.
'Joining the navy definitely helped discipline wise. I wouldn't be able to do this if I was just living outside as a civilian. It just refocused what I was doing in my life so it helped me out a fair bit.'
While at the Navy, he played six games for their Division four side, single-handedly winning them a premiership.
Miller kicked 30 goals in six games for Cerberus to dominate Division Four Southern Football League and promote his team up to Division 3 for 2019. He ended up departing for the Dolphins in 2019 and his team has since gone winless from 10 games so far.
Frankston tracked Miller throughout last season, recruiting him because of his penetrating right boot and overhead marking ability.
Since coming to Frankston he has played every game, juggling his football and navy commitments with aplomb. If he were ever drafted, he'd give away his navy work, despite his enthusiasm, but acknowledges he has lots of work to do to reach that stage.
'Traditionally I haven't been good at fitness so getting my fitness up to a high level and then just proving to myself that I belong at top level footy is the next step.'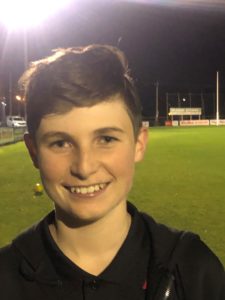 Article by Jonty Ralphsmith / Photo's by Diggle Photography
Dolphins Digital Media Team