Please see below a copy of Paul Edbrooke's speech in Parliament inviting the Victorian Premier to our first game 2018! 
Frankston Dolphins

Page 66

14 November 2017

ASSEMBLY

Adjournment

PAUL EDBROOKE

*** DAILY HANSARD PROOF ONLY – DO NOT QUOTE ***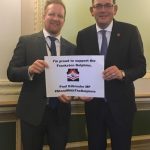 Mr EDBROOKE (Frankston) (19:13:44) — (13 566) My adjournment matter is for the Premier of Victoria, and the action I seek is that the Premier accompany me to the monumental first Frankston Dolphins home game for 2018. I know you will be excited to know, as I was to be there, that yesterday evening was the milestone first training night and selection night for the Dolphins. I was pleased to see around 50 hopeful future Dolphins on the field, and many of them were from Frankston clubs.
Mr Wynne — Will you be playing?
Mr EDBROOKE — No, I will not be playing.
I know it was a proud moment for me and many of the people that have helped the club get back on board. The name Frankston Dolphins certainly is not unheard of in this house. It was not long ago that we heard that they had lost their VFL licence and then regained it. Many of us said, 'No, we are not going to let this happen'. In fact with a strong club-led campaign we went from 100 members to around 1250 members, and we had around 3500 signatures of people in support of bringing back the Dolphins, which was fantastic.
Even the federal opposition leader joined in and joined the club in their time of need.
Our community just was not willing to accept —
An honourable member interjected.
Mr EDBROOKE — Yes, hear, hear, Bill! Our community just were not willing to accept that we lose our premier football team, which is a conduit for many of our youth to go on to bigger and better things. We have got some unfinished business on the field and in our community as well.
It was magnificent news when the state government was able to chip in and help the club with their debt up to the tune of almost $500 000. We have got a new, fantastic general manager, and now we are building up a head of steam. We have actually got a new coach, Adam Skrobalak, as the senior coach for 2018.
An honourable member interjected.
Mr EDBROOKE — He played for St Kilda, I think, or was one of the coaches of St Kilda. It is fair to say it has been a tough fight and we have a long way to go, but the first bounce is going to be great. If the level of passion and commitment is anything to go by, we are certainly going to be a formidable force in the next season. This is what I love about the Frankston community. It is that sense of resilience, the determination, not backing down in a fight and actually winning. That is the thing. It is an amazing attribute of Frankston.
As a proud sponsor of the club, I look forward to introducing the Premier to the team behind the resurrection of the Dolphins, because this is a history-making moment. It is epic, it is unforgettable and it will be glorious. Bring on season 2018!