Hawthorn Football Club announced an exciting step in their commitment to women's football, with Box Hill Hawks entering a team in the 2017 Swisse VFL Women's competition.
Patrick Hill has been appointed the inaugural senior coach of the side and said he is excited about the new opportunity.
"It's really an opportunity to get in on the ground floor, it's another test of my coaching and different ways of going about things, so I was pretty keen to get on board once I heard the full story," Hill said.
"I haven't coached a women's side before but I don't think there are too many AFL coaches that have.
"I don't think there is a great difference in coaching women. I think they have the same ability to take in information that the men do, so that's what I'm expecting from them.
"All in all I think it will be very similar."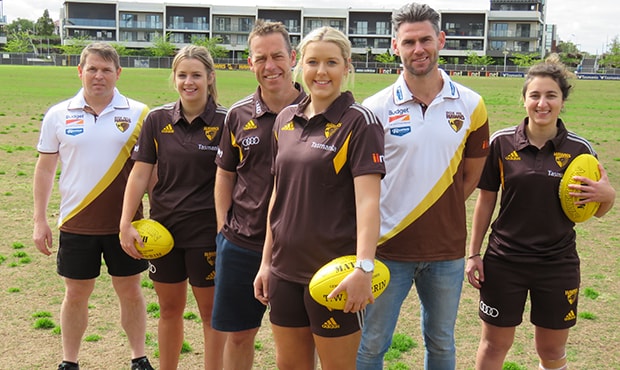 Whitehorse Colts players Ebony Nixon, Adriana Piva, and Bronte Bliston-Gourley pictured here with Chris Newman, Alastair Clarkson and Paddy Hill will attend the Talent ID Day at Waverley on 26 November.
Hill joined the Box Hill Hawks coaching staff in 2011 as an assistant coach of the premiership-winning development league team.
He was promoted to senior assistant of the senior team from 2012-2014, where he was a part two grand final appearances and one premiership.
Hill then took on the role of Senior Coach at Frankston Football Club where he has coached for the last two seasons.
"I started at Bonbeach footy club back in 2003. I worked with Jason Chappel first and then Damien Carrol," Hill said.
"When Damian got the job at Box Hill in 2011 he asked me to come down and be a line coach.
"I then took up the role at Frankston for the last two years – it's been a tough job but an incredibly enlightening job for me."
The Hawks will host a Talent ID Day at Waverley Park on November 26 and Hill believes the Hawthorn brand will help recruit some talented players.
"This is the second time in two or three years now that I have had to start afresh with a team," Hill said.
"To start with I think the Hawthorn/Box Hill brand will help us recruit some players. I think there are plenty of women out there that want to give it a go.
"There are a lot of ladies playing other sports that I think would be really well suited to Australian Rules Football. I'm expecting we won't have too much trouble getting a side together."
Hawthorn becomes the second AFL club to announce an affiliate VFL Women's side following Geelong's announcement last month with Hill excited by the pioneering aspect of the role.
"We need to look at trying to make it one club and bring it all in together," Hill said.
"I know that AFL Victoria don't want women just separated from the men, they want to make it part of the experience that you go and watch the ladies and watch the men and that's what I'm really keen for."